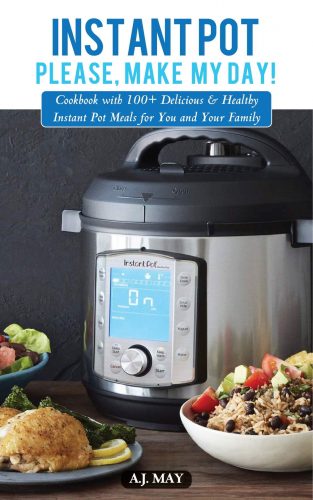 About Instant Pot, please, make my day! by A.J. May:
The author of this book, Amy May, believes that you can cook delicious meals without chef diploma, especially with Instant Pot. If you agree then this cookbook is for you!
With a preparation time of only 10 minutes for most recipes, this cookbook will ensure every stomach is fed and every task is done on time.
The cookbook is about American recipes with European flavor, having easy step-by-step procedures, tips and tricks, and accompanied with color photos! The author will make you discover 100 different recipes for breakfast (rice & berries), soup (creamy mushroom), stew (tuscan chicken), beans (curried quinoa), pasta (meatball spaghetti), red meat (beef bourguignon), chicken (carnitas or adobo), seafood (cioppino), vegetable (mashed sweet potato) and even desserts (tapioca pudding).
This cookbook contains recipes mostly fit (by major functions used) for such Instant Pot models as Duo, Duo Nova, Smart WiFi, Viva.
Never used an Instant Pot before? Don't worry as this book includes a short manual on how to use an instant pot to prepare delicious meat, poultry, vegetable and other delicious instant pot meals for everyone.
The book price will be 0.99$ only starting from 01 October, 8 a.m. until 08 October, 12 a.m. (PDT). Do no miss this chance!
If you like the book, please, leave a review on Amazon. This will help to put this book ahead of many other readers!
Very soon this book will be the main cooking book you'll be using at home!
Buy the book:
Author Bio:
Amy May is a passionate home cook and a recipe developer who is promoting the idea of being a wonderful cooker without requirements to have a chef diploma or work experience in a 5-star Michelin restaurant.
Born in Atlanta, Amy has been a corporate consultant for years and travelled a lot across USA and Europe. She fell in love with multi-faced American and South European cuisine and mixed them. These experiments gave zest to traditional American recipes and using of Instant Pot make cooking of them easy. After that Amy decided to share her love of cooking and results of her experiments with others trying to create more happiness in the world.
Now Amy is living in Atlanta with her husband and 2 sons.