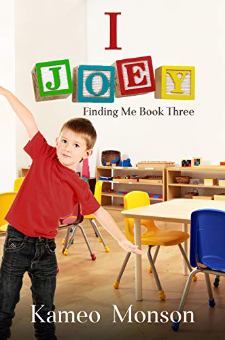 About I Joey: Finding Me Book Three by Kameo Monson:
The truth of who she is lies within one word: family.When Kat's son, Joey, was diagnosed with autism three years ago, she learned everything she could to give him the best life possible. Months later, her husband abandoned them. Luckily, her now-boyfriend Warren and his sisters pushed their way into her heart. But life still has bumps. Joey's school doesn't agree with the accommodations he requires. Warren's sister Kristen continues struggling with no way to support herself. And, worse yet, Kat's ex is back. Even with all that's happening, Kat wants Joey to have a fulfilling life. But when disaster strikes, she's forced to make a choice. Can she figure out how to help others while providing for Joey's needs?At the conclusion of the Finding Me Series, I JOEY offers a whirlwind of emotions that promises heartache, hope, healing, and second chances.
Buy the book:

Author Bio:
Kameo Monson grew up in Glendale, Arizona, where she picked cotton on the way to school through her kindergarten year and smelled orange blossoms on the way to church through junior high. The first time her husband McKay drove an hour across the Phoenix Valley to pick her up for a date, he thought she'd be surrounded by farmland. Unfortunately, most had been built up a decade previously. When Kameo was still young, her parents only allowed them to have one family dog at a time, despite her begging. McKay has a harder time saying no. That's why they house four dogs, a cat, a Guinea pig, and two lovable rats. The fish are his. She and her husband will reach twenty-five years of wedded bliss in June 2020. They have four children, ranging from adult to young teen.Kameo loves spending time outdoors and dreams of being a reverse snowbird. Pine and aspen trees regularly call to her from the Mogollon Rim. She also enjoys exploring Arizona and surrounding states with her husband. Most of Kameo's spare time is spent writing women's fiction novels, where she gets to explore the emotional toll that comes with being human from different points of view. She also enjoys writing short stories and won the February 2020 What's Your Story contest sponsored by Envie Magazine, a literary publication.