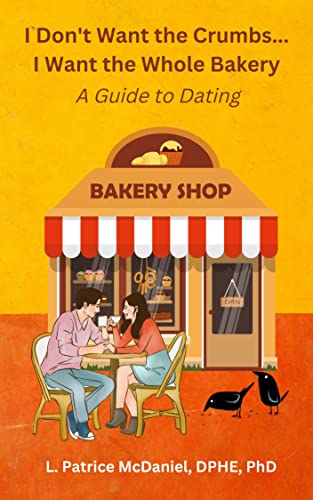 About I Don't Want Crumbs…I Want the Whole Bakery!: A Guide to Dating:
Dating in the 21st century can be tricky. Whether you are single, divorced, or a window/widower, knowledge is power when it comes to navigating and succeeding in the dating world. This book provides insight into the different types of relationships, how to define relationships, compatibility, personality, and attachment styles. It is possible to find 'the one' by discovering that you do not need to find someone perfect, just someone who is perfect for you.
Buy the book:
Author Bio:
Dr. L. Patrice McDaniel has always enjoyed non-fiction. She has an inquisitive mind and is a lifelong learner! This statement is supported by the fact that she has obtained six college degrees in her lifetime. Her undergraduate education includes a BA in journalism (Telecommunication Arts). Her graduate education includes a MS/PhD in psychology, MSHS in emergency and disaster management, MA in health psychology, and doctor of health professions education (DHPE).
While studying psychology, her goal was to become a licensed psychologist. After 10 years of study, she realized that the traditional route of Clinical Psychology that focuses on the diagnosis and treatment of mental disorders, while important, was not where her knowledge, skills, and talents could be best utilized. It was after the bombings in Atlanta and 9/11 that she developed an interest in emergency and disaster management. She began working in the field of terrorism preparedness, and completed studies in emergency and disaster management. She has served as a content and subject matter expert in developing graduate level courses in school safety, security, and emergency management, and forensic victimology. She also teaches undergraduate courses in social and behavioral sciences.
While she still works in the field of emergency management as a college professor and practitioner, she never abandoned her love for psychology. She now focuses on the many other ways that psychology may be applied to day-to-day life to help people become better versions of themselves through sub-disciplines such as ecopsychology, positive psychology, and health psychology. "When a person understands oneself, then they have a better understanding of how to effectively interact with others in personal, professional, and social settings." One of Dr. McDaniel's goals is to share what she has learned in the field of psychology by providing practical content to help others succeed. Her brand PositivePsych4U is currently being developed.