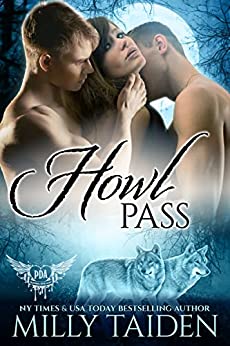 About Howl Pass (Paranormal Dating Agency Book 46)by Milly Taiden:
Terrorized as a child by her shifter parents and her wolf pack, Sassy Rodriguez has sworn off anything to do with shifters, living her life as a human. Hell, she was even married to a human until she found out he wasn't as loving and faithful as he had promised after he had said I do. So there's no way she's going to find romance in the hottest shifter she's ever seen when she opens her front door in a towel.
Wolf alphas Remy and Josh have been waiting for the female to complete their triad for years. When finally meeting her with the help of Gerri Wilder, they discover she refuses to acknowledge any part of her shifter self. That includes her mates. That doesn't stop them from wanting to get her out of her clothes and into their bed.
The attraction is undeniable, but that's not enough for Sassy to go back into shifter life. In order to have their happily ever after, the men must figure out how to romance their mate outside of the bedroom. A task not easily accomplished for two long-time bachelors. Especially with a woman whose ex-husband is a gun-toting narcissist who thinks if he can't have her, nobody will.
Buy the book:
Author Bio:
Hi! I'm Milly Taiden. I love to write sexy stories featuring fun, sassy heroines with curves and growly alpha males with fur. My books are a great way to satisfy your craving for paranormal romance with action, humor, suspense and happily ever afters. I live in Florida with my hubby, our kids, and our fur children Speedy, Stormy, and Teddy. Yes, I am aware I'm bossy, and I am addicted to chocolate and cake. I love to meet new readers, so come sign up for my newsletter and check out my Facebook page. We always have lots of fun stuff going on there.