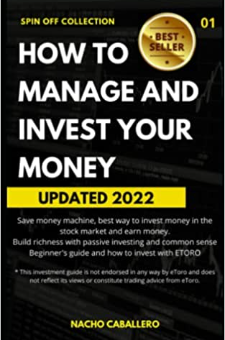 About HOW TO MANAGE AND INVEST YOUR MONEY. Save money machine.: Build richness with passive investing. How to invest with ETORO (COLECCIÓN SPIN OFF):
Do you want to improve your money management at once, save effectively and invest cautiously and courageously at the same time? Do you want to know the ETORO platform from the inside of the hand of a person like you? I accompany you step by step and tell you how I do it.
A book so that you stop losing all the money you earn and that you begin to take charge of your finances and your life.
– A financial education book in which you will not have to take notes. It is simple and straightforward.
– You will lose the fear of investing in the stock market. I offer my hand to you all the way. Also after reading it.
– I am a person like you and I am going to tell you about my successes and mistakes in the last three years. I will save you money.
– You will know, first-hand, how ETORO works: one of the most popular platforms of this year.
– I'm going to tell you about my investment routine, STEP BY STEP so you don't get lost and play safe.
With this book you will make your money grow if you apply what you read. It is not about getting easy money, but it is about developing an EFFECTIVE PLAN to make the most of what you earn.
What you are going to GET with this book:
– Ensure your future and that of your family without depending on public pensions or your boss raising your salary.You are in luck.
– Know where your money is going each month and start to control it to live better and with more peace of mind.
– Learn to invest sensibly, profitably and without feeling guilty about making money.
– Get to the point: if you only have sixty minutes to read and € 50 to make your first investment, this is your book. You can invest in stocks, cryptocurrencies, commodities, and indices in different countries.
– If you do NOT want a book that sells you smoke and impossible figures, you are reading the book you need. … all this and much more, in a book that has already changed the lives of hundreds of readers.
WHO IS THIS BOOK FOR: a perfect book for entrepreneurs, businessmen, parents, seniors and young people who want to control their money and make it grow in a sustainable and calm way.
A straightforward and NO complications book that will make your money have more value: it will make you feel like you have superpowers.
GET BACK CONTROL OF YOUR MONEY AND YOU WILL HAVE A BETTER LIFE PURCHASE IT AT THE TOP OF THIS PAGE. I wait for you inside.
Buy the book:
Author Bio:
Nacho Caballero es pareja de Fátima y padre de Óliver y Alma. También Formador y Speaker especializado en Storytelling. Realiza monólogos personalizados, charlas de motivación y formaciones para empresas y particulares desde hace más de diez años. En la actualidad también ayuda a sus clientes a contar su historia personal a través del Storytelling: para entrevistas de trabajo, con inversores, charlas TED o speech de ventas. Colabora con diferentes marcas para encontrar la Storybrand que conecte con sus clientes para conseguir mejores resultados. Visita su web: www.nachocaballero.com y contacta.