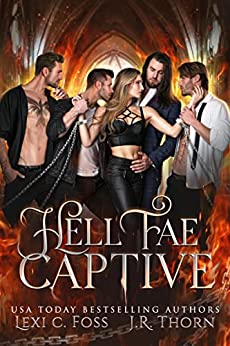 About Hell Fae Captive: A Dark Fantasy RomanceBy Lexi Foss/:
Welcome to the Hell Fae Realm, a place where only the strong survive.My parents made a deal with the devil and now I'm a Hell Fae Captive.Enslaved. Owned. Thrown to the Hellhounds and expected to survive.Because only survivors earn their mates.It doesn't matter that I don't want to be a bride.I'm a Halfling. Part Hell Fae and part girl-who-doesn't-give-a-shit.But because of a bargain,heowns me.Lucifer. The Hell Fae King who created this godforsaken realm.Also known as the orchestrator of these deadly bride trial games.Okay, Luci, I'll play.By burning this whole kingdom to the ground.Assuming I don't get caught in the hot Midnight Fae Warden's web first.Or ensnared by the brooding Hell Fae Commander lurking outside the gates.And don't even get me started on the Hell Fae King's favored prince. That sexy lunatic won't stop sending me gifts.No amount of hotness or sensual persuasion will keep me here.I'm not bride material.I'm a menace.You made a deal for the wrong girl, Lucifer.
Prepare for the fight of your life.Authors' Note:Hell Fae Captiveis a dark kidnap paranormal romance with four tormented mates and no choosing required. If you like your anti-heroes dominant and sexy, you've come to the right realm—the Hell Realm where the romance is hot and no forgiveness is required.
Buy the book:
Author Bio:
USA Today Bestselling Author Lexi C. Foss loves to play in dark worlds, especially the ones that bite. She lives in Atlanta, Georgia with her husband and their furry children. When not writing, she's busy crossing items off her travel bucket list, or chasing eclipses around the globe. She's quirky, consumes way too much coffee, and loves to swim.