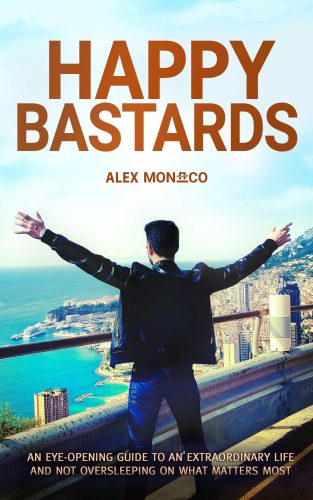 About Happy Bastards: An Eye-Opening Guide to an Extraordinary Life and Not Oversleeping on What Matters Most:
Do you feel unsatisfied with your life, work, or relationships? F!*k satisfaction! There's something more than happiness and success. Break through the limits society has put on you. Discover a meaningful life, full of bliss and joy, experienced by happy bastards.
Happy Bastards is a radical memoir and self-development book written by entrepreneur, blogger, and life provocateur Alex Monaco. Alex looks you straight in the eye and tells you your beliefs must change if you want to experience real bliss. And while unflinchingly exploding the delusions we tell ourselves, he also gently guides you to a new, better narrative for your life that will grant you the sheer joy you never thought possible.
If you like hard-won wisdom, in-your-face advice, and doing instead of complaining, then you'll love Alex Monaco's bestselling kick in the pants.
Get your copy of Happy Bastards today for a special launch price of $0.99.
This author's take-charge guidance and wake-up call could lead to your dream life!
I have good news for you! You can still become a happy person. I also have bad news. Your happiness can't wait for Monday. Happiness is here, and it hurts more than you do because you squashed it with your butt! – Alex Monaco
Buy the book:
Author Bio:
Alex Monaco is an author and blogger whose self-development pages are being read by more than 100,000 readers. Some people call him a happy bastard because he is extremely successful, even though he came from the bottom. Working as a housekeeper and waiter in England, he saved money and founded a digital marketing agency, which he sold 20 years later. In 2014, together with Olympian, he created the Onbo coaching system, which was awarded at the MITx Global Entrepreneurship Bootcamp event created by MIT—Massachusetts Institute of Technology.
Alex Monaco has helped thousands of people and businesses achieve their goals.
Happy Bastards is his take on life and how he arrived at where he is today. Alex's primary life goal is to help others break free from the standard mindset by changing their beliefs and choosing wiser life goals that society is often silent about.