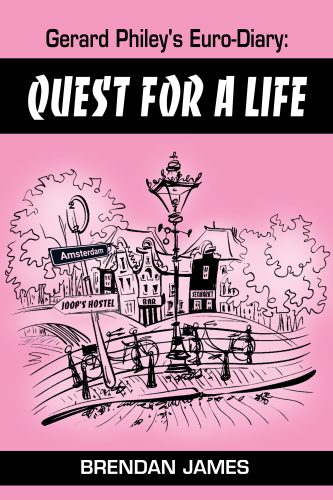 About Gerard Philey's Euro-Diary: Quest for a Life:
An outrageous romp through the diary of a disillusioned West Midlands teacher turned Amsterdam adult shop manager and his gay German bestie, as they struggle with self-doubt, dodgy doings and dating! "Funny, sad, eye-openingly honest and far from subtle!!"
'Could there be a world of interest and adventure beyond the Midlands? A world of confidence and excitement? A better life – a better me?' These are the questions Gerard Philey grapples with over New Year, 1995. Sitting in his rented Black Country room, reflecting on his thankless teaching job and miserable love life, he courageously decides to abandon his humdrum existence and embark on a quest for Euro-fulfilment, fun and fitness on the Continent.
After a shaky start in Brussels, events manoeuvre him to Amsterdam where chance encounters shift his world well and truly into fifth gear. He samples the trials and tribulations of new relationships, alongside managing an adult store in the city's Red Light Area – on top of the challenges of fat-free living and international travel!
Through his bittersweet diary, we see how Gerard steers a laugh-out-loud course through farcical episodes and fanciful characters…and how entanglements from past and present draw him unwittingly into an underworld where events ultimately take their toll. Free on Kindle Unlimited!!
Buy the book:
Author Bio:
Brendan James is the author of the new comedy novel, "Gerard Philey's Euro-Diary: Quest for a Life". Though this is his first novel, he has a large number of non-fiction publications (under the name Brendan Bartram) as a former university lecturer and researcher. A passionate linguist and Europhile, he spent a number of years working in the Netherlands, France and Germany. He lives in the West Midlands with his husband.