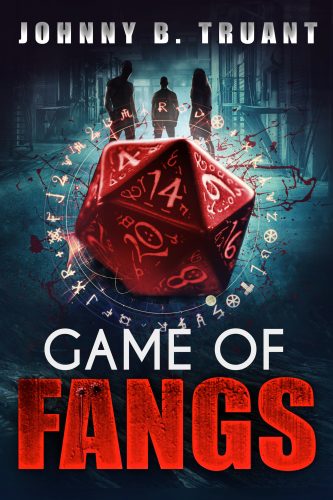 About Game of Fangs:
Game of Fangs is a new stand-alone novel in the Fat Vampire universe, from Johnny B. Truant, best-selling author of Invasion, Fat Vampire, and The Inevitable.
When Nora, Orlo, Robert, Amelie, Jaden, Rohit, and Brody form a seven-person team of live-action-role-players to enter a massive three-day Vampire LARP tournament, they have no idea two real vampires will be in the mix, on a mission of their own.
As the gamers play, gathering points and moving upwards through the floors of the convention center, the vampires turn contestants, searching for a lost descendant, and the game gets gruesome and increasingly deadly.
Will amateur vampire hunters be able to sort out the bloody truth from the role-playing fiction and save the still-living from the more-than-dead?
Perfect for fans of Rick Gualtieri's Tome of Bill or Drew Hayes' Fred the Vampire Accountant, Game of Fangs tells the story of what happens when a group of vampire-hunting gamers encounters real vampires. Get your copy today!
Buy the book:
Author Bio:
Johnny writes fun, page-turning, layered, and most of all "inquisitive" fiction — stories told in many genres and ways, united by a curiosity about life's biggest questions.
Whether the tale itself is about invading aliens, overweight vampires, or ordinary people in mindbending situations, Johnny's stories always live on two levels. The first is the surface, where vivid characters come to life to undertake the most extraordinary adventures. The second level, however, is deeper: diving into the corners of reality itself, or just the shadowland of a fractured mind.
If you like Christopher Nolan's movies or Michael Crichton's books, you'll be right at home in the Truantverse.
Originally from Ohio, Johnny and his family now live in Austin, Texas, where he's finally surrounded by creative types as weird as he is.