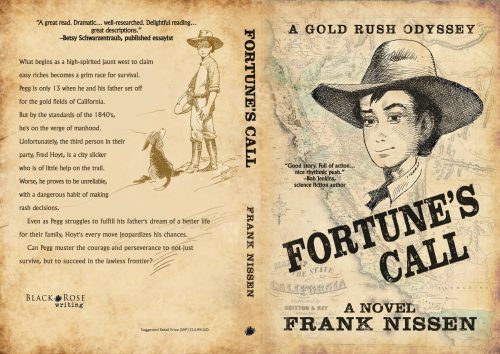 About Fortune's Call: A Gold Rush Odyssey:
What begins as a high-spirited jaunt west to claim easy riches becomes a grim race for survival. Pegg is only 13 when he and his father set off for the gold fields of California. But by the standards of the 1840's, he's on the verge of manhood. Unfortunately, the third person in their party, Fred Hoyt, is a city slicker who is of little help on the trail. Worse, he proves to be unreliable, with a dangerous habit of making rash decisions.
Even as Pegg struggles to fulfill his father's dream of a better life for their family, Hoyt's every move jeopardizes his chances. Can Pegg muster the courage and perseverance to not just survive, but to succeed in the lawless frontier?
Buy the book:
Author Bio:
Frank Nissen grew up in the heart of the gold country, roaming the hills and canyons through which the American river flows. Though this is his debut novel, he's been a lifelong storyteller. Frank started writing and illustrating comics in middle school. He went on to work in animation for over forty years doing visual and story development for projects such as Mulan, Dinosaur, Treasure Planet and Tarzan. After retiring from Disney Studios, he returned to the landscape that inspired this novel and is focusing on his writing career.