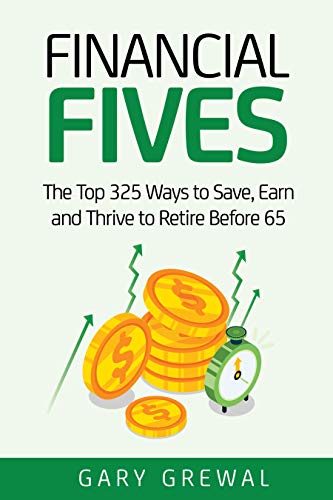 About Financial Fives: The Top 325 Ways to Save, Earn, and Thrive to Retire Before 65:
You're probably wondering, "What's with the 'Financial Fives' theme?" Well, Gary has read a multitude of personal finance books, and though containing valuable guidance, many can either put you to sleep, regurgitate the same bland advice, or overwhelm you with never-ending stories from an author's stroll down memory lane.
There isn't a book out there that is easy to follow, concise, and also densely packed with useful advice and actionable tips at the turn of each page. Whether it's learning about steps to negotiate rent on the subway ride home, or finding out how to save on festivals and events while waiting for your lunch order, Financial Fives will be your handy toolkit.
The goal of Financial Fives is to provide easy-to-follow tips in areas of personal finance that are applicable to the average reader, to absorb ideas effectively, and also refer back to for easy reading. This book can help you retire early, negotiate a pay raise, save money on home renovations, save money on your wedding, buy a home, become debt-free, and more! And unique chapters on things like saving money at festivals, getting the most money out of travel and hotels, even how to make the most of launching your business idea!
Some chapters include:
5 Ways to Save Money on Car Maintenance-
5 Guilt-Free Ways to Invest in Yourself
5 Ways to Save Money on Throwing a Party
5 Questions to Ask Your Realtor
5 Ways to Save Money on the Dating Scene
Buy the book:
Author Bio:
My name is Gary, I was born and raised in Rocklin, CA just outside of Sacramento. I grew up in a quintessential middle-class neighborhood in the suburbs and our street was known for its Christmas lights display that hundreds come out for each year! I now live back in Rocklin after spending 7 years in Orange County, Colorado, and Tennessee. I don't have any pets, but find plenty to fill my time by longboarding, biking, hiking, reading, cooking, and of course, writing! I'm also a passionate fan of minimalism and sustainability.