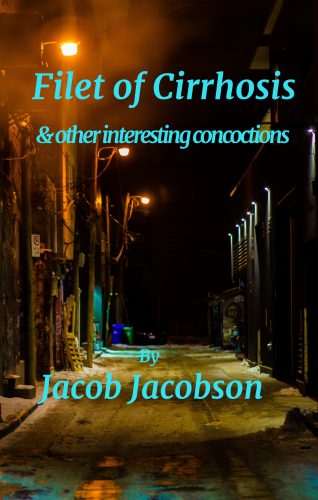 About Filet of Cirrhosis:
Roger crossed the street and walked up to the newsstand, nodding a silent greeting to the dwarfish man behind the rows of magazines and newspapers, watching him finish up with a customer that was asking about a particular magazine's upcoming issue. As the customer left, Roger sidled up across the magazines from the short proprietor.
"Morning Frank, how's business?"
Frank gave Roger an easy grin as he put money in his cash drawer, his voice gruff sounding but friendly.
"Could be better, but I'm keeping little Freddie fed."
Frank was dwarfish to the point that he looked like he should be holding a pick and singing in a mine. He was short and thick and had hair on just about every inch that wasn't trimmed, right to his knuckles, thick, coarse hair that was curly and wiry. His beard was neatly trimmed, a thick mustache helping it hide Frank's wizened face. The floor behind the counter of the stand was raised to bring Frank closer to the height of his customers, so he wouldn't appear quite as short as he actually was.
There was a counter on the back wall of his newsstand, and in the corner at the end of that counter was a cozy-looking little cage with a little hut for sleeping and a little wheel for exercise and a dish with pellets and a water bottle and plenty of comfy chips for a hamster to bury itself in.
But there was no hamster in the cage. Freddie was instead on the counter near the cage, sitting on the opened page of the morning edition, looking almost as if he was reading the article beneath him as he munched on the pellet in his tiny claws.
Roger gave the hamster a grin.
"Hey, Freddie!" Roger's hand dipped into a pocket and produced a short, thin carrot stick, just Freddie's size. The hamster looked over and raised his claws as Roger tossed the carrot to sail gently into the stand right in front of the hamster with well-practiced ease, and the hamster caught it with obvious equal training.
"He never misses anymore," Roger said with a grin.
Frank smirked at the trick. "Yes, be proud; you've trained a hamster to catch food," which Roger dismissed with a soft grunt.
"What's Freddie reading today?"
Frank glanced over with a deep chuckle.
"I believe he's reading your story."
Roger nodded with a smile, knowing it was Frank reading that story.
"So what does he think?"
"A bit gruesome," making Roger's eyes roll with a small groan, to which Frank chuckled and continued, "but gruesomely well written."
Roger grinned. "Thanks; I was proud of my descriptions."
"Lovecraft couldn't have been more descriptive," Frank muttered as he took money from another customer, Roger watching with quiet glee as they grabbed a paper and walked away, making Frank chuckle.
"You just can't wait for'em all to read that gruesome story of yours."
Roger leaned closer over the counter, gaze furtively shifting side to side before a low voice queried, "So does it make you nervous that this one was so close?"
Frank just shrugged as he straightened a row of tabloids.
"Cities are dangerous. It's still more likely that I'll be mugged and stabbed on my way home than eaten by a maniac." Then he chuckled. "In fact, I might have been mugged by those two had they not been eaten."
Buy the book: