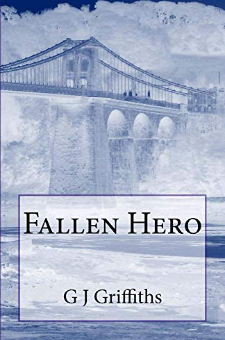 About Fallen Hero: The Bridges Connecting Christopher, Jimmy and General George S Patton by G J Griffiths:
Just what makes a hero and do they always disappoint us in the end?
Christopher Squires is a confused man. Adopted and raised in Britain after World War II he is surprised to find he has a connection with Fritz, an orphaned German boy, who was found dead in the boot of General Patton's Cadillac at the end of the war. Chris discovers the link through a meeting with Jimmy Lucas, an American GI, who he believes could be his father. But the surprise turns to horror when he learns that Jimmy was involved in the death of both the orphan and the much-lauded General.
Buy the book:
Author Bio:
G.J. Griffiths is a retired Science teacher with some early experience of the Photographic trade. Born in the United Kingdom he is a very happy Grandad who thought he would like to write a book. This is his first novel. Who Do They Think They Are? Watching those programs on TV about different people looking into their ancestral past, and seemingly becoming very upset about certain individuals in their pedigree, he wondered about how much their emotions had been stirred by forebears, such as cousins, grandparents and even great-grandparents. After all they had never met them or never even knew about their existence previous to their research. The tears, regrets and often anger that became evident on the screen betrayed how delicate feelings may often lie very near the surface. At the same time he had been reading Winston Churchill's volumes about the Second World War and also reading about the Battle of the Bulge, of Band of Brothers fame. It occurred to G J Griffiths: What if someone was looking into their ancestry and discovered that their forefather was involved in a plot to assassinate a famous general from WW2?