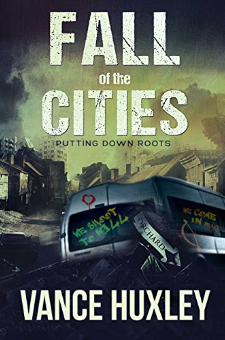 About Fall of the Cities: Putting Down Roots:
As Harry and the other residents of Orchard Close struggle to survive, a new crop of problems present themselves. Unstable electricity damages equipment, days are spent scavenging for ammo, weapons, food, glass bottles, and of all things, yarn. Elsewhere, gangs carve out their territory throughout the city. Residents pay for protection through coupons, barter or worse. Citizens fleeing the city gangs, violence and lack of food flock to Orchard Close, but how many can they take in? Worse, as time goes by, life changes from surviving to enduring. What's the point of maths if you are going to starve to death? The peace is fragile with only a bullet away from having the whole world change again…and it does.
Buy the book:
Author Bio:
Vance Huxley lives out in the countryside in Lincolnshire, England. He has spent a busy life working in many different fields. Eventually, Vance tried writing though without any real structure.
Then he actually sent one off to be read which delivered at least one bucket of very cold water (but a polite and informative bucket). As an editor and beta readers explained the difference between words and books, he tried again.
Now he tries to type as often as possible in spite of the assistance of his cats, since he is no longer mobile. An avid reader of sci-fi, fantasy, and adventure novels, so his writing tends toward those genres.
He also spends much too long wandering off down those fascinating blind alleys that the internet produces when researching, but oh, the little treasures at the end of some!