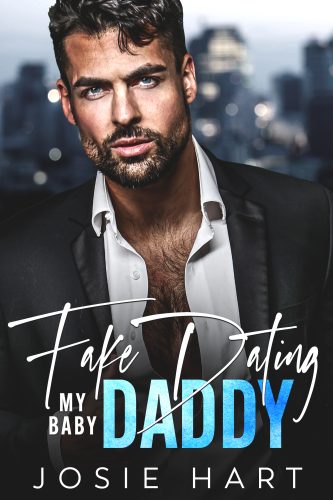 About Fake Dating my Baby Daddy:
I'm fake dating the hottest man alive.
And he doesn't know he put a baby in my belly.
Gavin Austin. The epitome of sexy.
A real life demigod with sculpted cheekbones and a perfect body to match that 10/10 face.
After seeing the TV report on his recent breakup,
I can't stop the intrusive thoughts about everything I want him to do to me.
It's just my own little fantasy, for now.
When his jilted ex-girlfriend wants back into his life,
I grab his hand and play new girlfriend.
Fake dating for pretenses only… until it isn't.
Just a flick tingles all my secret spots,
And his touch marks something deep inside me.
The feelings between us just got too real,
And this maverick's instinct is to run.
But can I make him stay now that he's my baby daddy?
Buy the book:
Author Bio:
Josie Hart is a #1 Amazon Best Selling author who writes contemporary romance that begs to be read cover to cover. "Unputdownable" books guaranteed to melt your Kindle. Bad boy alphas, grumps with a heart of gold, and high levels of steam are her specialty. Every sizzling book ends with a deliciously satisfying happy ending.
Josie lives in California with her husband and two young daughters. When she's not typing away in her office, she enjoys baking up a storm in the kitchen (but not the clean up), crocheting tiny cute things, and sipping a glass of wine (or two) at the end of the day.