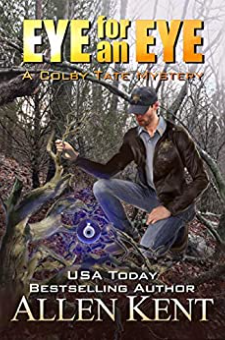 About Eye for an Eye: A Colby Tate Mystery (The Colby Tate Mysteries Book 2):
When an explosion at a public water project rocks tranquil Crayton, Missouri, Sheriff Colby Tate and his unlikely band of deputies are drawn into the murky world of global vendetta killing. As they scramble to protect three immigrant families to their rural Ozark community, a mysterious amulet found at the site of the blast hints at connections to Tate's past and to a romance and military history he is struggling to leave behind. In Book Two in the Colby Tate Mystery Series, USA Today bestselling author Allen Kent interweaves a tale of deception, romance, and murder that will keep you guessing right to the final sentence.
Buy the book:
Author Bio:
Allen Kent is a USA Today and Amazon bestselling author with a number of other writing awards. Four years of his life were spent living in Iran and England, and he has traveled and worked extensively in Europe, the Middle East, and Southeast Asia – experiences that are reflected in his writing. His career includes five years as a pilot in the U.S. Air Force. He and his wife Holly are avid travelers, gardeners, and conservationists, and live in an eco-friendly home in rural southwest Missouri.
Kent is the author of the popular Unit 1 thriller series, the Whitlock Trilogy of historical fiction, The Colby Tate Mysteries, and other mysteries and thrillers.