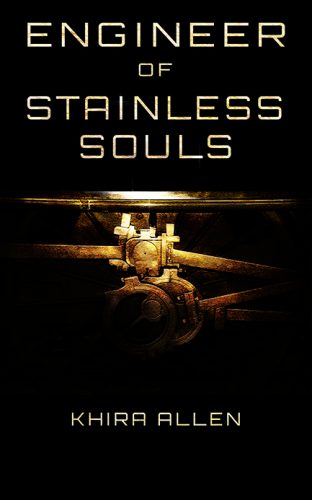 About Engineer of Stainless Souls:
FREE 20-22 Jan 2023
Orphaned twins, Adam and Luka, are inseparable, both bound and scarred by the tragic accident that claimed the lives of their parents. But now, shortly after their eleventh birthday, Luka is gone, the mystery of his fate hidden in the fragmented images that haunt Adam's thoughts.
Inexplicably, Adam finds himself in a synthetic reality created with one aim: to unravel the events surrounding his brother's death. An old-fashioned train carriage, lit by the soft glow of gas lanterns, is carrying a handful of passengers into the night. On a journey marked by strange events and wondrous transformations, Adam meets a passenger who understands the nature of this construct and its rules. The eccentric and charismatic Dr Verrence Hart offers to guide Adam in untangling his memories in order to uncover the murderer.
There is only one catch. The killer is aboard the train. And for the guilty, absolution lies in forgetting the past.
Buy the book:
Author Bio:
Khira Allen writes hard science fiction novels that trace the future pathways for human evolution through technology. A scientist by day and a keen observer of human nature, Khira remains endlessly fascinated by the questions of humanity and identity. Khira Allen's novels 'Songbird Ascension' and 'Engineer of Stainless Souls' explore the transformative potential of human-machine merger. Khira enjoys travelling, reading and working in her garden. When in a whimsical mood, Khira pens short stories that sketch visions of the future and give a science fiction twist to traditional fairy tales.