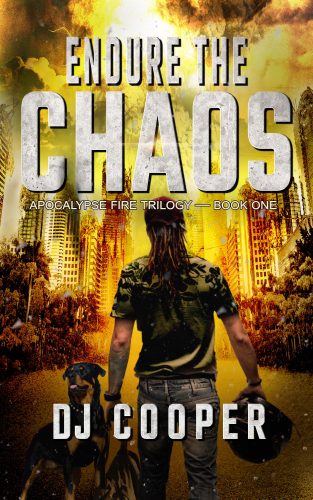 About Endure The Chaos:
Earthquakes rock the land and ash begins to fall. What happens when chaos erupts all at once and there is no way out? Jace, panicked seeks to find his pregnant girlfriend. While Cami and Theo navigate a growing attraction confusing their precarious situation.Two groups seek to emerge from the destruction and find a place to survive. This Apocalyptic Survival
Thriller brings edge of your seat action in every chapter.
Complex and flawed characters struggle to survive and get along in a world gone mad. The very fabric of society is torn and worst of it seek to destroy anyone in their path. This new series marries adrenaline with the end of the world in this edge of your seat new trilogy.
Buy the book:
Author Bio:
DJ Cooper is the Bestselling author of the apocalypse. Check out her latest series of books "Chaos." It all started with the Dystopia series of books she released in late 2014. A strong desire to learn more led her back to school in hopes of gaining more perspective on the craft and the industry. She holds a Bachelor of Arts in English, a Master of Science in Marketing, and is currently, a student at Southern New Hampshire University studying for her Master of Fine Arts in English/Creative writing with a concentration in teaching. She studied Graphic Design and designs book covers as well through Dauntless Cover Design.