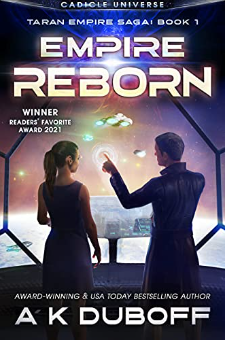 About Empire Reborn (Taran Empire Saga Book 1):
Jason Sietinen's investigation into a mysterious starship attack uncovers a chilling truth: the Taran Empire has inadvertently broken an ancient treaty with transdimensional aliens. Now on the cusp of galactic war, Jason must find a way to unite the Taran worlds, including the lost colony of Earth, against the mounting alien threat. Except, how do you fight an enemy you can't see or touch? Dive into the award-winning series now! "A smartly executed jumping-off point for new readers in a complex SF saga." – Kirkus Reviews
Buy the book:
Author Bio:
Award-winning and USA Today bestselling author A.K. (Amy) DuBoff has always loved science fiction in all forms, including books, movies, shows, and games. If it involves outer space, even better! She is most known for her acclaimed Cadicle Universe space opera books, as well as the Nebula-nominated Dark Stars trilogy. As a full-time author, she can frequently be found traveling the world while writing timeless science fiction, science-fantasy, and comedic sci-fi. When she's not writing, she enjoys wine tasting, binge-watching TV series, and playing epic strategy board games. Learn more at www.amyduboff.com.