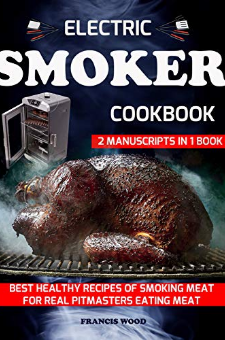 About ELECTRIC SMOKER COOKBOOK. 2 Manuscripts in 1 Book: Best Healthy Recipes of Smoking Meat for Real Pitmasters Eating Meat (carnivore diet friendly, bbq bible, beef, pork, lamb, chicken, turkey recipes) by Francis Wood:
THESE SWEET AND STICKY RIBS ARE WORTH GETTING YOUR FINGERS DIRTY FOR! Feed your inner carnivore. Keep the napkins handy!Packed with the inspiring color photos "Electric Smoker Cookbook. 2 Manuscripts in 1 Book. Best Healthy Recipes of Smoking Meat for Real Pitmasters Eating Meat" by Francis Wood provides everything you need to satisfy family and impress guests, including wood chip pairings, temperature guidelines and finishing techniques. Your electric smoker is the most convenient and affordable appliance for effortless, delicious barbecuing, and this book is its must-have manual.Electric Smoker Cookbook includes:2 Manuscripts in 1 Book!mouth-watering, juicy, tender meat recipes to feed your inner carnivore.easy to prepare smoking meat recipes of chicken, turkey, pork, beef and lamb, beautifully laid out with gorgeous photography – making them a joy to create!easy to follow directions and easy to find ingredients.ideal foodfor Carnivore diet, Meat Eating Diet with recipes for getting lean, ripped.full color images, step by step guide and much more nutrition information you will find insideno guilt after eating!Lose Fat Quick with these amazing, healthy meals that won't kill your bikini bod. Score!!Put a little soul in your food!No steak knife needed
Buy the book:

Author Bio:
Hello! I am Francis Wood a diehard food lover and kitchen worm. Growing up in Texas wasn't easy. My siblings and I didn't have the luxury of being pampered the whole day as our parents were busy working to give us a better life.This prompted me to develop a passion for cooking for my younger siblings and I. Since then, I have developed a number of useful cooking e-Books that you may find useful. When not in my kitchen cooking, I am busy looking for exotic ingredients to come up with new recipes or enjoying BBQ with my family. This year, I will be celebrating my 20th anniversary in the culinary industry. To help make my celebration better you can order a copy of my book and who knows you may end up using it during your best party ever or any other anniversary for that matter♥.