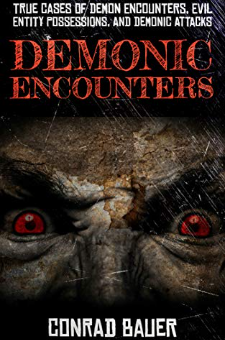 About Demonic Encounters: True Cases of Demon Encounters, Evil Entity Possessions, and Demonic Attacks (Paranormal and Unexplained Mysteries Book 10):
Demons have always intrigued us, humans? Do they really exist, what are they really like, has someone already encountered them? Discover multiple cases of demonic encounters.
Download FREE with Kindle Unlimited
Does true evil really walk the world? Is there really such a thing as demons? While this book makes no claim to prove their existence, it certainly contains some riveting testimony from those who claim to know the answer to both of those questions. It covers such stories as the infamous Son of Sam, the tragic case of Anneliese Michel, the terror of David Glatzel, and the bone-chilling account of Ronald Hunkeler—the real-life inspiration behind the Hollywood classic The Exorcist.
These are just a few threads of the complex tapestry of demonic encounters that we have woven. You will find enough tales of demonic activity in this book to make your head spin—but don't let it spin too much, lest you draw the attention of an exorcist yourself!
Read on your favorite devices such as Kindle, iPhone, iPad, Android cellular phone, tablet, laptop, or computer with Amazon's free reading Kindle App.
Scroll back up and click the BUY NOW button at the top right side of this page for an immediate download!
Buy the book:
Author Bio:
Conrad Bauer is retired mathematics professor. He has always wanted to write books about subjects that fascinate him, mainly mysteries of the universe, unexplained phenomena, mysterious organizations, conspiracies, and anything where the truth is not evident. He now writes full time and put lots of effort researching unexplained events and organizations around the world, trying to shed more light on his chosen subjects.
Conrad lives in England with his wife and two Irish setter dogs.