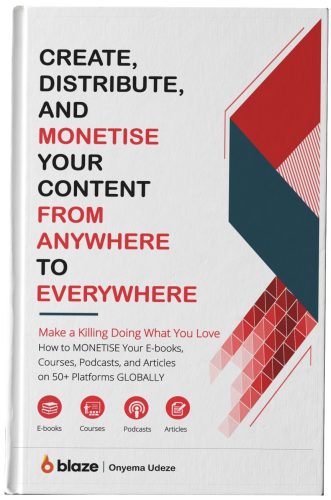 About Create, Distribute and Monetise Your Content From ANYWHERE to EVERYWHERE:
Indie publishing can be quite complex. You need to master the process of creating, distributing and marketing your products – be it books, courses, podcasts, or blogs. But in today's digital economy, it is possible to own your story and live a creative lifestyle by teaching your gifts.
Self-publishing does not have to be hard. This book breaks down the process of creating, distributing, and monetising books, online courses, podcasts, and written content.
Leading brands and pro creatives use quality content and digital marketing to connect deeply with their target customers and audience. This book not only takes you through the content creation and monetisation process, but it will also take you through the essentials of digital marketing.
No matter where you are and at what stage you are as a creative, you can begin to make money from your content.
Distributing your content globally and selling your digital products to a global audience is no more a dream but a reality in today's global economy. As a creative, your content can reach places you might never get to visit. Your content can build you into a global figure and make you money even while you sleep. It is possible to make a career out of content creation. You get to travel around the world and sell globally.
Monetising your content and digital products can be quite complicated. You might have found yourself asking these questions:
How do I know what people will be willing to pay for?
On what platforms do I sell my products to maximise sales?
How do I get paid on global/international platforms?
How do I compete with all the big names in the industry?
How do I get good at selling?
How do I successfully launch my products?
Where do I start from?
Monetisation is indeed complicated and that is because the internet is very competitive. This book is a comprehensive guide on how to Create, Distribute, and Monetise your content from any part of the world to every part of the world – so you can make a killing doing what you love. Be it E-books, Online Courses, Podcasts, or Written Content.
This book is broken down into six parts:
The first part paints a clear picture of why content is more relevant than ever today.
The second part focuses on Ideating, Writing, Editing, Formatting, Publishing and Distributing E-books.
The third part focuses on Ideating, Creating, Recording, Producing, Distributing, and Managing Online Courses.
The fourth part focuses on Ideating, Recording, Producing, and Distributing Podcasts.
The fifth part focuses on Distributing and Monetising Written Content.
The sixth part focuses on Content Promotion leveraging diverse Digital Marketing channels – both Organic and Paid.
An extra chapter deep-dives into the process of setting up and managing personal websites without programming.
The book provides a step-by-step guide on the right way to launch any digital product – E-books, Online Courses, Podcasts, and Written Content
It removes the complication around monetising your content.
It will show you how best to come up with product ideas that people will be willing to pay for.
It will show you how to get your products on all the global platforms easily and get paid on them.
It will show you the process that goes into creating any form of a digital product.
Buy the book:
Author Bio:
Onyema Udeze is a young entrepreneur and digital creator passionate about helping African brands and creatives become profitable in the online economy. An Architect by profession, he is the co-founder of Blaze Media, an online platform hosting and promoting Afrocentric content and brands.
He is an Instructor at LinkedIn Learning. He consults for brands to establish and monetise their online presence.
He also writes and talks extensively about the digital transformation of the building construction industry.
He sits on the board of the non-profit organisation, Building Information Modeling Africa Initiative.
He is an Autodesk Certified Professional for Revit Architecture, Mechanical, and Electrical disciplines.