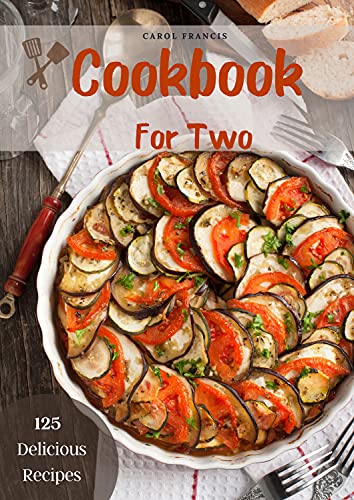 About COOKBOOK FOR TWO:
Do you cook for yourself and your special one? Do you want to enjoy a healthy, homecooked meal?
All these occasions are perfect to prepare a meal for two including Valentine's Day dinner, cuddly Sunday morning brunch, lunch with girlfriends, daily tête-à-tête when the children have left the house. There are so many opportunities to prepare a meal for two. So, if you are you running out of ideas, this cookbook is the best choice to offer yourself and your special one an unforgettable dining experience. From breakfast to appetizer to dessert, you will find the perfect meal to share with these simple and delicious recipes.
This cookbook will offer you 125 lovingly selected, simple or elaborate recipes for all tastes and budgets with the most judicious choices of dishes, from appetizers to dessert. To make the moment unforgettable, subtly combine the vigor of the spices that awaken our senses and the sweetness of the sweets that melt in the mouth, dress your table with candles and flowers, create an atmosphere with soft music, and use a beautiful fragrance to offer your beloved one the best romantic experience.
In this cookbook you will find:
• Basics of cooking for couples
• Tips for cooking for two
• 125 Super delicious recipes of different categories
• Meal plan
• Many high quality pictures and more
Gentlemen, you can say to your other half: taste this and marry me!
Buy the book: