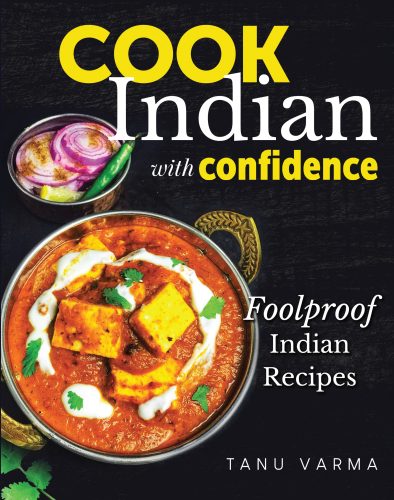 About Cook Indian with Confidence:
Cook Indian with Confidence aims to bring authentic Indian culinary experience to your kitchen. Easy-to-follow, well-tested Indian recipes with lots of tips and tricks to help you make soul-satisfying Indian dishes. All the vibrant and delectable dishes in this book are captured in gorgeous photos to motivate the foodie in you to try them yourself.
This Indian recipe-book contains a good mix of vegetarian and non-vegetarian dishes with vegan and gluten free alternatives provided for majority of the recipes. If you are a beginner in Indian cooking or you have already tried your hands and want to dive deeper into it, there are plenty of options for you in this book.
Buy the book:
Author Bio:
Tanu Varma is the founder and owner of the food blog tanusrecipes.com. She helps food lovers across the globe to savour varied flavours of Indian food through her online cook-along classes (Tanu's Indian Cooking Classes) which have got excellent reviews on google. She has also featured on Colors TV UK.
Tanu was born and brought up in India. She started experimenting in the kitchen from an early age, drawing inspiration from her mom who was an amazing cook. Her studies and work took her to different regions of India where she got an opportunity to experience the varied regional cuisines of India. When she moved to UK in 2008, she brought her passion of cooking with her. After spending 15 years as a lecturer, she decided to embark on a journey of spreading her culinary knowledge across the globe.