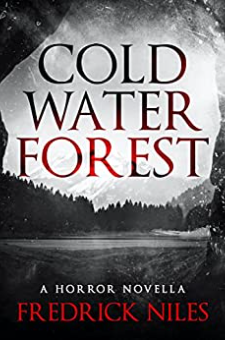 About Cold Water Forest by Fredrick Niles:
The old Norris cabin sits quiet and abandoned in the heart of the Cold Water Forest. Town locals know the area by reputation, passing stories of the place between themselves on cool, summer nights. But now the season is changing, sending the rats that infest the surrounding woodlands scurrying into their holes.
Broke and desperate, Kelsey Fletcher flees along with her elderly mother and pensive daughter to the only place left available to them. She hasn't heard the stories, hasn't been caught out in the swamp when the sun goes down and all the strange things of the world come crawling out. Even so, the family cabin of her childhood feels oddly different and as the days go by an overwhelming sense of dread begins to descend upon them.
From the author of The Omen Tree comes a story soaked in grief and brooding atmosphere. Cold Water Forest is a journey into that liminal state one often finds themselves in as their world gets turned upside down. And once the terrain has shifted, it can be nearly impossible to find the way back.
Buy the book:
Author Bio:
Fredrick Niles is the author of the dark fantasy/horror novels Ash Above, Snow Below and The Omen Tree. He can be found in St. Paul, MN where he collects good books and bad whiskey.