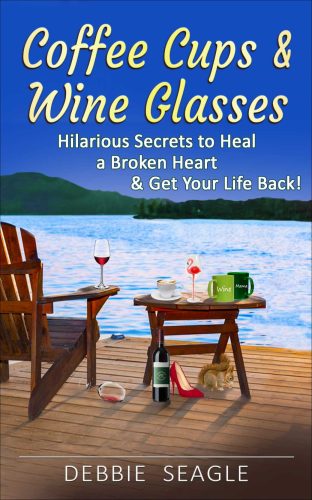 About Coffee Cups & Wine Glasses:
This collection of shameless tales and ingenious schemes is woven into a series of hilarious triumphs filled with love, grief, and mischief. You can laugh; you may cry, but you will ultimately be inspired and redirected in a meaningful way – with a new perspective.
Discover the one word that will change your life.
Uncover outrageously unusual secrets for getting on with your life after a big disappointment, loss, breakup, or divorce. No matter what you've been through, every reader (you) will achieve a heightened sense of happiness and a deeper level of confidence than you ever imagined.
Inspirational stories and hilarious activities will awaken your genius and motivate you to revitalize your life in ways you never thought of.
You'll not only learn how to tie knots when you're at the end of your rope, pamper yourself (you'll go back to this chapter for the rest of your life), and outsmart a bear; you will find remarkable ideas to enhance your notoriety before you croak. PLUS, a sure-fire plan for getting your life back.
Full of:
Encouragement
Enlightenment
Life Hacks
Recipes
Gut-busting inspiration to create happiness all around you
Gleeful tactics to escape humiliation, balconies, & boredom
Find the secret to true happiness.
It's a Journal
It's a Vision Board
It's entertaining, comical, & inspiring
Coffee Cups & Wine Glasses is the perfect gift for yourself, your friends, and anyone who needs a lighthearted boost, a new outlook on life or needs to laugh hysterically with resilience and courage.
Buy the book:
Author Bio:
I live in the Blue Ridge Mountains of Virginia, where much of my writing originates. I've authored a long-running Sunday column in the New Orleans Times-Picayune, was a US Embassy newsletter author/editor/publisher, military base Communications Director, and have written numerous unpublished books. Give me time; somebody give me time!
Over the years, i've been an airshow director, marketing director for military bases, federal deployment center operations manager, and Top-Secret senior technical writer for some of the world's unknown oracles.
My joys include being with family, snow skiing, sailing, gardening, hiking, kayaking, hanging with friends, and good wine in a magnificent wine glass. Oh, and if I'm not doing any of those things, I bury myself in writing and reading.
I have degrees and certificates for various obscure vocations, but my lifelong endeavor to become an accomplished juggler has not transpired – yet. Someday I will DOiT. #doit #lifeback
Random Facts about me:
• I've jumped out of an airplane 3 times (with a parachute).
• My Indian name is "Little Whirlwind."
• I played the clarinet in the high school concert band.
• Colonel Sanders touched my boob.
• Don Hoe grabbed my butt.
• Bill Clinton winked at me.
• I had lunch with Nicholas Sparks. He talked to me.
• I hung out all day with Jeff Foxworthy (once). He signed my sign.
• Davy Jones & I spent a day at his horse stall. He sang a song to me.
• I still sometimes twirl a fire baton.
• I was married to a US Marine and moved 42 times.
• I've been interviewed on TV and radio 72 times.
• I've been to Camp David twice.
• I planned an international gala ball in the Eiffel Tower.
• I have 3 sons and 8 grandchildren (so far).
• I once could do back walkovers on a balance beam.
• I call my bathroom The Jim. I go to The Jim every morning!
• I've touched 4 US Presidents (I shook their hands, ok?).
• I'm an expert in fitted-sheet folding.
• Bananas make my throat itch.
• I love my truck.