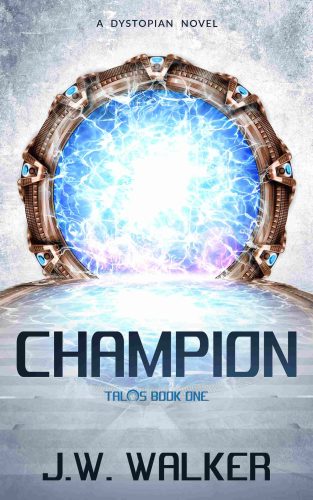 About Champion – A Dystopian Novel:
He never wanted to become a Champion, but Ambition changes Everything
Modern society has fallen, but the people of the Naharaim Valley have learned to survive…barely. The Harvesters, peddling the promise of provision and supplies for the families of their chosen Champions, visit periodically through a Gate connecting Naharaim to a far more advanced society on the other side.
Alexander has always been a survivor, solitary and able to take care of himself and his family. He had no interest in the Champion contest and the promises from beyond the Gate, but his mother, having fallen severely ill with a simple cold, sets him on a new path. With her dying breath she begs him to become a Champion and prevent others from sharing her fate.
Reluctant, Alexander begins his training, where pride and ambition soon take over. The rival clans are bigger, faster and more experienced, but Alexander fears failure far more than superior opponents.
As the start of the Champion contest approaches, something doesn't add up. Why do the high-tech Harvesters need the help of simple warriors to fight their far away war? Are the other clans the enemy or does the true threat exist on the other side of the Gate?
Buy the book:
Author Bio:
J.W. Walker is a career military officer with a passion for writing and storytelling. He writes time travel science fiction and near future technothrillers, all with a dystopian twist.
J.W. has a fantastic wife and four children that keep life interesting. In 2019 he co-founded TimeSpace Publishers with his wife, Jacquelyn Walker, in order to bring self-published stories directly to readers.