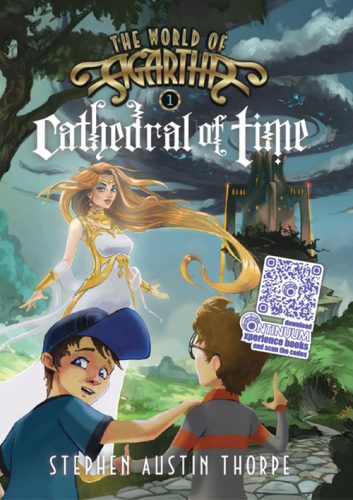 About Cathedral of Time:
Perfect for fans of Percy Jackson, this is more than a book — it's an Xperience. It's a tale of three friends who need their wit and determination to traverse dangerous mythological lands and escape historical megalomaniacs bent on their destruction. The free Xperience Books app, that accompanies the book, will put you in the middle of the action. You'll stand, with full 360-degree views, in some of the same locations our trio of friends stood. You'll take selfies with heros and villians, and Xperience a variety of other media. You'll even be able to submit your fan art for possible inclusion in the app.
When Makayla Brown casually decides to write a term paper on an infamous local legend, she has no idea her research will turn personal. She'll uncover a secret journal that will give her the courage to make a leap of faith and launch her on an incredible journey through a dangerous new world and a treacherous old one. Will she survive? Will she ever return home, or will she be doomed to spend eternity in these foreign lands trapped by the Rule of the Fates? Will Tanner and Andrew, her two best friends, ever know what really happened to her? Did she leave enough clues for them to track her down? The clock is ticking…
Cathedral of Time, Book One in The World of Agartha series, will have fans of mythological gods, evil emperors, quests, fate, and destiny cheering our trio on and waiting anxiously for future books.
If you like mythology, fantasy, urban legends, and history, you've come to the right place. The World of Agartha.
Buy the book:
Author Bio:
Stephen Austin Thorpe grew up loving words. The son of a school teacher who had a magical flare for dramatic phrases, intonations, and storytelling, he worked for decades developing his own storytelling skills in both the journalism and corporate worlds. Stephen grew to love mythology and history while serving as a 19-year old missionary in modern-day Rome. Combining this with a fascination for urban legends inherited from his father, Stephen has been able to create a unique fantasy series that will captivate both young and old. Stephen lives in Utah with his wife Maria and daughters Jenny and Mary.