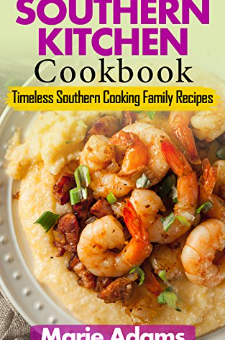 About SOUTHERN KITCHEN COOKBOOK: Timeless Southern Cooking Family Recipes:
Bring the soulful goodness of Southern cuisine to your table! Your family and friends will love you for it.
Download FREE with Kindle Unlimited!
We are all familiar with foods that are particularly "Southern" – fried chicken, jambalaya, collard greens, biscuits, and pecan pie, to name only a few favorites. All foods develop from a combination of the tastes and traditions of its populations, together with ingredients that are available in the area. Africa, Spain, France, and Scotland have all contributed to the development of Southern food as we think of it today. Each region brought its own ingredients and cooking methods, and combined them with the fresh local foods to create an irresistible cuisine we all love.
Cooking authentic and traditional Southern favorites is easy when you have the right recipes like the ones contained in this cookbook. Your friends and family will certainly ask for seconds and, of course, your secret family recipes!
Inside:
• Discover the origins of Southern cooking
• Over 85 authentic Southern recipes including appetizers, chicken & turkey, beef, pork, fish & seafood, sides, and desserts
• Mouth-watering appetizer recipes like the Grandma's Crawfish Chowder and the Coconut Shrimp,
• Delicious chicken and turkey recipes like Grandma's Southern Fried Chicken, the Old Fashioned Chicken and Vegetable Roast and the Chicken Divan
• Comforting beef recipes like the Beefy Bell Pepper Surprise and the Old-South Meatloaf
• Wholesome pork recipes like the Low Country Slow Cooker Pulled Pork and the Southern Smothered Pork
• Delightful fish and seafood recipes like the Grandma's Gumbo, the Shrimp Malacca and Rice, the Crawfish pie, and the Oyster Stew
• Tasty vegetables and sides like the Fried Okra, the Old-Fashioned Creamed Corn, or the Louisiana Green Bean Casserole
• Luscious dessert recipes like the Classic Key Lime Pie, the Best Ever Coconut Layered Cake, and the Southern Pecan Pie.
Download today and enjoy reading on your favorite devices like Kindle, IPad, IPhone, Android tablets and phones, laptops, and even your computer with the free Amazon app.
Let's get cooking! Scroll back up and click the buy button on the top right side of this page for an immediate download!
Buy the book: