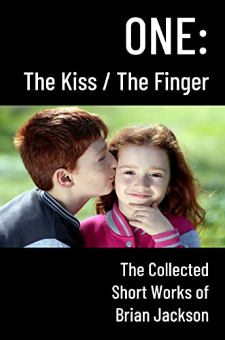 About One: The Kiss / The Finger (The Collected Short Works of Brian Jackson Book 1):
My name is Steve Merriman and I'm eleven years old. I go to Darby Avenue Elementary School where I'm in the sixth grade. Today, March 11th, 1969, after school, I have to kiss a girl.
So begins the opening story in this short, two-part collection, "The Kiss", which tells of Steve Merriman's predicament that comes about due to a dodge ball accident in which he hits Maureen Keller in the face with a scorcher. To keep Maureen from "telling", Steve agrees to kiss her behind the bungalows after school. "The Kiss" is a classic story of burgeoning young love set amid days gone by when everything seemed to be simpler and youth was awash in a sea of innocence.
"The Kiss" was previously published in the Columbia College Spring Review, and in the book "A Curious Affair", published in mass market paperback by New York publisher Dorchester Press.
"The Kiss" is followed by the only other story in this collection, "The Finger", in which the narrator of the story wakes to find a severed finger lying on the coffee table of a shared apartment. But that's only the start of a really bad day in which chaos ensues.
These two stories were written soon after I retired, while attending a creative writing class at my junior college.
I hope that you enjoy reading these stories as much as I enjoyed writing them. Keep your eye out for other installments in The Collected Short Works of Brian Jackson.
Buy the book: