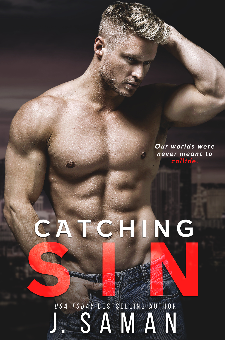 About Catching Sin by J. Saman:
The moment our eyes meet, I know he's trouble.
The sort of dangerous girls are warned to stay away from.
The kind of sexy, arrogant, strong, and brave you can't help but desire anyway.
Only…by the time Maddox Sinclair walks into my life, it's too late.
I'm under the thumb of Vegas' most notorious devil.
That doesn't stop Maddox from making promises even my tattered heart can't refuse.
Or from risking his whole world for the girl he shouldn't fight for.
Because my devil isn't so easily thwarted.
He started this game with a master plan–one that makes me his ultimate pawn.
Deals have been made. Lives are at stake.
And when he finally comes for me, there is no escape…
Buy the book:
Author Bio:
J. Saman is a USA Today bestselling author who is addicted to Diet Coke, sour candy, and indie rock. She swears way too much (especially after a glass of wine) and has a penchant for sarcasm (or so her husband and children like to tell her).
She's an admitted lover of second chance romances, love triangles, and the perfect amount of angst. She is best known for writing contemporary romance filled with smart, strong women, and sexy alphas who have a softer side – especially for their women.