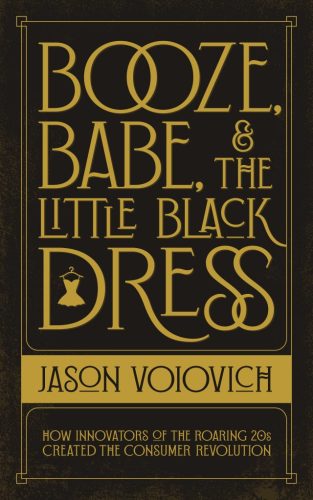 About Booze, Babe, & The Little Black Dress:
The Roaring 20s was so much more than The Great Gatsby. In this book, we'll dance the night away at the Savoy Ballroom in Harlem, sign up for the first subscription media service, get caught up in the Trial of the Century, pack our bags for the first all-American road trip, have a little fun in the sun, leave a review for that roadside motel, afford it all with five easy payments, learn how babies are made (and not) in the back seat of our car, get the resulting kink in our back worked out, shop for a new crib in the first big box store, watch our children learn to be savvier consumers than their parents, and pick up a new type of magazine to help us make sense of it all. And, of course, we'll learn about the gangsters of Prohibition ("Booze"), how sports became more product than athletics ("Babe" as in Babe Ruth), and the democratization of fashion by the indomitable Coco Chanel (the "Little Black Dress").
Buy the book:
Author Bio:
In a career that spans more than 25 years, Jason Voiovich has launched hundreds of new products – everything from medical devices, to virtual healthcare systems, to non-dairy consumer cheese, to next-generation alternatives to the dreaded "cone of shame" for pets, to sex aides for cows (really!). He's a graduate of both the University of Wisconsin and the University of Minnesota, and he has completed post-graduate studies at the MIT Sloan School of Management. His formal training has been invaluable, but he credits his true success to growing up in a family of artists, immigrants, and entrepreneurs. They taught him how to carefully observe the world, see patterns before others notice them, and use those insights to create new innovations. History is Jason's favorite way to observe the world. He believes the people from the past have plenty to teach us about the challenges and opportunities we face today.