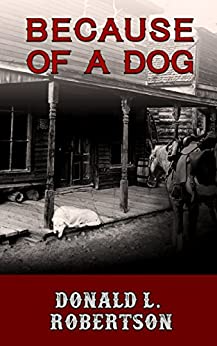 About Because of a Dog: A Western Novella by Donald L Robertson:
"Don't meet too many people who don't like dogs. Mostly those kind of folks ain't worth knowing."
Nolan Parker rides into Mustang City looking for grazing land of his own.
With money in his pocket, he's in town to buy a ranch.Then he saves a boy's dog from a killer.
Now he finds himself embroiled in the beginnings of a range war, battling the hired gunmen of a ruthless rancher. He must make a decision. Stay and fight, or cut and run.
Because of a Dog, is a drama of honor, love, hate, and death—a stirring tale of the old west that will keep you engrossed to the very end.
Buy the book:
Author Bio:
Donald L Robertson grew up reading Westerns with his aunt. They shared a love of Louis L'Amour. He wrote his first book after a career as an airline pilot and found out he loved it and surprise, it sold!
How many people are lucky enough to find two careers that they are passionate about.
If you like good, clean, action-packed Westerns, you will love his books. Get started with this story and find out for yourself.