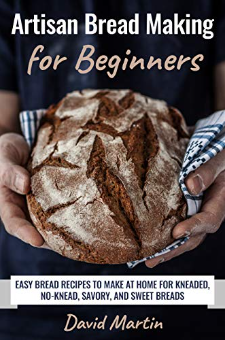 About Artisan Bread Making for Beginners: Easy Bread Recipes to Make at Home for Kneaded, No-Knead, Savory, and Sweet Breads (Bread Baking):
With this cookbook, making bread can be much easier than you think, and a lot of fun and with various good results, too!
Download FREE with Kindle Unlimited
In this cookbook, you will find 50 foolproof recipes for making artisan bread, from delicious crusty bread to traditional sourdough and country loaves. Artisan bread is a big deal for a variety of reasons, but what I know for sure is that artisan bread has the absolute best flavor, texture, and aroma.
Making artisan bread is not only easy but also very satisfying and joyful. Preparing all of the ingredients and kneading them into a dough is a real salve for your soul. When you see how the dough rises, it's real magic.
There are so many ways of preparing artisan bread, many of them quite time-consuming, but what I will show you here are simple techniques so you can enjoy making bread every day and your family can enjoy it for breakfast, lunch, and dinner.
Inside, you'll find:
•Artisan bread recipes like the Ciabatta Bread and the French Baguette
•Sourdough bread recipes such as the Sourdough Bread with Olives and the Sourdough Bread with Bacon
•Herbed bread recipes such as the Baguette with Garlic and Herbs Bread, the Herbed No-knead Dutch Oven Bread, and the Feta and Herbs Bread
•Vegetable and cheese bread recipes like the Cheddar Cheesy Bread, the Sundried Tomatoes Bread, Potato Bread, and the No-knead Parmesan Bread
•Buns and rolls recipes such as the No-knead Artisan Rolls and the Pizza Artisan Rolls
•Sweet bread recipes such as the Brioche Bread, Candied Orange and Almond Bread, and the Chocolate Sourdough Bread
All recipes come with a detailed list of ingredients, cooking and preparation times, number of servings, easy to follow step-by-step instructions, as well as nutritional information per serving. .
Read on your favorite devices such as Kindle, iPhone, iPad, Android cellular phone, tablet, laptop, or computer with Amazon's free reading Kindle App.
Let's get started! Scroll back up and click the BUY NOW button at the top right side of this page for an immediate download!
Buy the book:
Author Bio:
David Martin qualifies himself as a BBQ addict! For as long as he can remember, David has always been fascinated with the preparation of meals cooked on the grill and smoker. It has been a prominent feature in all of his childhood memories. Growing up in South Carolina, the barbecue was the central activity of the weekend. It was where everyone would gather, share amazing food, laughter, and talk. These early encounters with the barbecue formed important traditions in David's family that he continues to this day. He now owns his BBQ restaurant where he has been creating and tweaking his recipes for the last for 20 years. In the past couple of years, he has been sharing his knowledge in his books and has a particular interest in how it's done in elsewhere where barbecue is king like Missouri, Tennessee, Texas, and more to come.