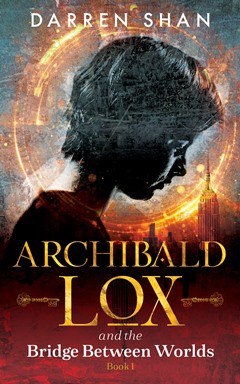 About Archibald Lox and the Bridge Between Worlds:
There is a universe beyond our own, known as the Merge.
A young locksmith called Archibald Lox is about to cross worlds and explore it.
As he learns about these lands of wonders, he will have to face cold-blooded killers, rivers of blood, hell jackals and more…
Book one of the Archibald Lox series, by Darren Shan, the New York Times bestselling YA author of Cirque Du Freak and Lord Loss. Books 2, 3, 4, 5 and 6 all now available!
Buy the book:

Author Bio:
Darren Shan was born in London but has spent most of his life in Ireland, where he lives with his wife and children. He has published more than 50 books for both children and adults, and has sold over 30 million books worldwide, making bestseller charts in the USA (New York Times Top 10 on numerous occasions), the UK, Ireland, Hungary, Dubai, Japan, Taiwan and elsewhere.