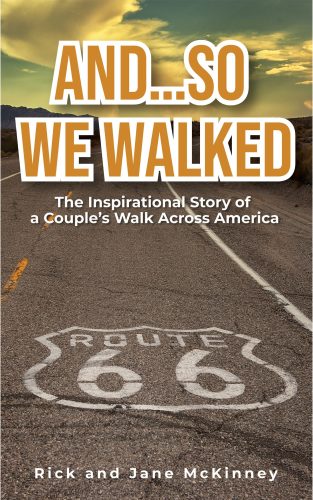 About And…So We Walked by Rick and Jane McKinney:
How would you respond if asked to do something you knew was impossible? Something so difficult, so crazy, so beyond your ability that it didn't even make sense. You'd dismiss it, forget about it, and act like you were never asked, right? But what if it were God asking? What if you were absolutely sure that you had just heard God speak?
This is that story…the story of hearing God's voice, knowing God's will, and answering the call. It is the story of a life-changing adventure driven by a desire to share their faith. It is the story of two very unlikely people who said yes to God and saw Him perform miracles. They walked from one side of the country to the other, witnessed to hundreds of people about Jesus, and prayed for hundreds more, all in obedience to God.
As you read this memoir, you'll take each step with them, meet the people they met, hear the prayers they prayed, feel their pain, and celebrate their victories. This is the incredible, true account of their once-in-a-lifetime walk across America and how it transformed their lives forever.
If you've ever struggled to know God's will, wrestled with whether or not to obey God's voice, or wondered if you had what it takes to actually accomplish it, this book is for you!
Buy the book:
Author Bio:
Rick and Jane McKinney have lived an extraordinary life of ministry. Once described as "mavericks," they have literally stepped out into the unknown to embrace God's call and have experienced His presence in a way that only comes through a life of obedience. Whether planting and pastoring churches, traveling the world to perform concerts, building a house in Mexico, traveling from village to village in India, or walking across America, they have followed His voice as He led them forward, one step at a time.