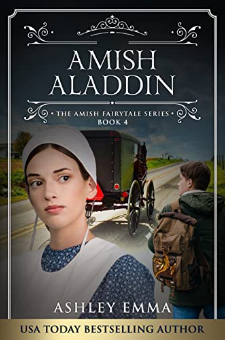 About Amish Aladdin (The Amish Fairytale Series Book 4):
Being a thief is all Aladdin has ever known until he meets Jasmine Byler, the bishop's stepdaughter, in Unity, Maine while trying to steal from her booth at the farmers' market. Instead of reporting him to the police, she lets him keep the food he tried to steal, and Aladdin is stunned by her kindness.
Aladdin isn't Amish like her. In fact, he knows nothing about the Amish—but he's determined to learn everything about the Amish that he can so that he can impersonate an Amish man and ask her on a date. How can a homeless thief like him pass as a righteous Amish man? What if she recognizes him from the farmers' market?
After Aladdin rescues a man named Gene from thieves who try to steal an antique gold Arabian lamp from his antique store, Gene wants to grant Aladdin one wish to thank him. Aladdin only wants one thing: to become an Amish man so he can win the heart of Jasmine Byler.
Fortunately, Gene grew up near the Amish of Unity. After Gene teaches Aladdin everything he knows about the Amish, cleans him up, and gives him a place to stay, he introduces Aladdin to the community as a man who has just moved to Unity but wants to join the Amish.
As Aladdin gets to know Jasmine, he falls even more in love with her, but her stepfather Bishop Byler wants his daughter to court Jeffrey, a young man who lives down the lane and is determined to marry her and inherit the family's farm.
Just when Aladdin thinks things can't get any worse, someone from Aladdin's past catches up to him, threatening not only any chance he has with Jasmine, but also her life.
Also in this series:
Amish Snow White (always FREE)
Amish Beauty and the Beast
Amish Princess and the Pauper
Buy the book:
Author Bio:
Visit www.AshleyEmmaAuthor.com to download free eBooks by Ashley Emma!
Ashley Emma wrote her first novel at age 12 and published it at 16. She was home schooled and knew since she was a child that she wanted to be a novelist. She's written over 20 books and is now an award-winning USA Today bestselling author of over 15 books, mostly Amish fiction. (Many more titles coming soon!)
Ashley has a deep respect and love for the Amish and wanted to make sure her Amish books were genuine. When she was 20, she stayed with three Amish families in a community in Maine where she made many friends and did her research for her Amish books. To read about what it was like to live among the Amish, check out her book Amish for a Week (a true story).
Ashley's novel Amish Alias was a Gold Medal Winner in the NYC Book Awards 2021. Her bestselling book Undercover Amish received 26 out of 27 points as a finalist in the Maine Romance Writers Strut Your Stuff novel writing competition in 2015. Its sequel Amish Under Fire was a semi-finalist in Harlequin's So You Think You Can Write novel writing competition also in 2015. Two of her short stories have been published online in writing contests and she co-wrote an article for ProofreadAnywhere.com in 2016. She judged the Fifth Anniversary Writing Contest for Becoming Writer in the summer of 2016.
Ashley owns Fearless Publishing House in Maine where she lives with her husband and four children. She is passionate about helping her clients self-publish their own books so they can build their businesses or achieve their dream of becoming an author.
Download some of Ashley's free Amish books at www.AshleyEmmaAuthor.com.
ashley@ashleyemmaauthor.com
>>>>Check out Ashley's TV interview with News Center 6 Maine! https://www.newscentermaine.com/article/news/local/207/207-interview/what-led-a-writer-to-the-amish/97-5d22729f-9cd0-4358-809d-305e7324f8f1
See all Ashley's other podcast interviews and articles she's been featured in here: http://ashleyemmaauthor.com/author-interview/