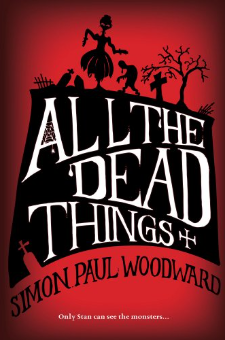 About All The Dead Things (Deathlings Chronicles Book 1):
A boy fleeing for his life. A dead girl leading a rebellion. Time is running out to save the world of the living.
Hunted by the deathlings, ghosts that only he can see, Stan flees through London's streets. Scared and alone in an unknown city, he doesn't know who he can trust, until he meets Gabby, a ghost leading a revolt against the deathlings' master.
The deathlings believe Stan is the Seer, a human destined to be their doom. They'll stop at nothing in their pursuit of him, even breaking time itself. Now Stan must find his way to the truth, before the deathlings steal his soul. If he fails, they'll be free to destroy the balance between the worlds of the living and the dead forever.
If you liked Miss Peregrine's Home for Peculiar Children, The Graveyard Book, or Skullduggery Pleasant, then you'll love All The Dead Things, book one of the Deathlings Chronicles.
Buy All The Dead Things to join Stan's perilous adventure today!
Buy the book:
Author Bio:
Simon Paul Woodward is a horror writer based in London, UK. He's a member of the Horror Writers Association (HWA) and the British Fantasy Society (BFS) and has won the BFS short story competition. His novels and short story collections have received plaudits from bestselling authors and his short fiction has appeared in magazines in the UK and USA.
You can visit him at www.simonpaulwoodward.com