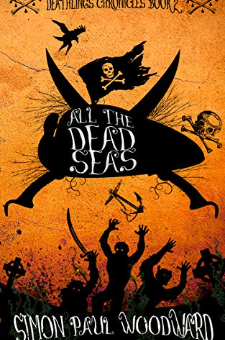 About All The Dead Seas: a novella (Deathlings Chronicles Book 2):
(previously published as Scrimshaw by Simon Paul Woodward)
Pirates rising from the grave. A Cornish village that may not survive the night. A boy fighting to save his dead sister's soul.
A pirate deathling has trapped Tom in an impossible dilemma. Either he breaks a two-hundred-year-old curse, freeing the ghost and his crew to slaughter an entire village, or the ghost will damn his dead sister's soul for eternity.
Tom blames himself for his sister's death. When he returns to Little Sickle, the village where she died, he's shocked to learn that her soul is still imprisoned there. Now he has one night to face his guilt, uncover the village's wicked past and rescue her from a crew of bloodthirsty, deathling pirates. Damnation or redemption will be his by dawn.
If you liked Miss Peregrine's Home for Peculiar Children, The Graveyard Book or Skullduggery Pleasant, then you'll love All The Dead Seas, book two of the Deathlings Chronicles.
Buy All The Dead Seas to enjoy more deathlings today!
Buy the book:
Author Bio:
Simon Paul Woodward is a horror writer based in London, UK. He's a member of the Horror Writers Association (HWA) and the British Fantasy Society (BFS) and has won the BFS short story competition. His novels and short story collections have received plaudits from bestselling authors and his short fiction has appeared in magazines in the UK and USA.
You can visit him at www.simonpaulwoodward.com