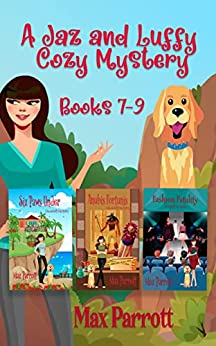 About A Jaz and Luffy Cozy Mystery: Books 7-9 (A Jaz and Luffy Cozy Mystery Collection Book 3):
"The different elements of the mystery create an upbeat, witty, and quirky plot with a blend of a televised game show, suspicious competitors, and a disappearing body, which makes Six Paws Under another charming and delightful installment of the series."–5 Stars, Readers' Favorite
BOOK SEVEN
One island. Eleven Strangers. One Murder.
Eager to try her hand at an exciting televised game show, amateur sleuth Jasmine and her faithful companion Luffy are back at it again when they pit their skills against eleven fellow competitors on the hunt for a hidden treasure. Jasmine needs the prize money to fund her budding PI business… provided nobody else gets to it first.
But things soon take a darker turn when one of the competitors meets an untimely demise. Jasmine knew the competition would be fierce – but could it really drive someone to murder?
With the cameras trained on her every move and the remaining competitors still vying to claim the grand prize for themselves, Jasmine must juggle her desire to win the competition with her determination to solve the case. Can Jasmine and Luffy manage to find the truth? Or will the prize – and the culprit – slip away from them?
BOOK EIGHT
An ancient curse… but is it responsible for a very recent death?
Jasmine Moore is no stranger to the paranormal. As a first-hand witness to a supernatural bond with her golden retriever, she knows there are some things that just cannot be explained.
When a mysterious coffin arrives at their small-town museum of Blackwood Cove, bringing with it stories of an infamous curse, Jasmine plays it off as just another silly old story. But after the body of a young museum employee is found, she's forced to wonder if there really is some truth behind the coffin and the mysterious deaths that surround it…
Diving into another perplexing case as an upcoming private investigator, Jasmine and her dog Luffy are tasked with unraveling the strange secrets surrounding the museum's primary exhibit and its employees. And as she digs deeper, Jasmine wonders if psychic visions and talking dogs aren't the only magic that Blackwood Cove has in store—or if the ominous danger lurking the museum halls is more human than anyone could have guessed…
BOOK NINE
Murder has rolled into town.
When a suspicious limousine arrives at the tiny town of Blackwood Cove, the locals are abuzz with rumors—and Jasmine Moore discovers it belongs to none other than world-famous fashion designer Athos Calabresi.
Athos takes a shine to Jasmine and her unique style, and he offers her a once-in-a-lifetime opportunity—a spot on his team. There's only one problem. If she accepts, she'll be forced to give up her job as a detective.
Torn between two conflicting worlds, her impossible choice only gets more complicated as she unravels the mysterious disappearance of the model she'll be replacing. Scrambling to uncover the truth behind Athos and his secretive fashion team, Jasmine and Luffy face the daunting task of exposing the culprit while avoiding the ire of a powerful enemy.
And as she digs deeper, she begins to realize that perhaps this fashion designer isn't as truthful as he first seemed…
Buy the book:
Author Bio:
Max Parrott is a dog trainer who currently lives in Seattle with his beloved golden retriever named Luffy. It is this special canine friend that has inspired him to start his very own cozy mystery series.
The inseparable duo often enjoy big long walks down the canal where Max reminisces about Luffy's one shot at fame – a close second in Musical Chairs for dogs one wintry Christmas eve.
You can follow Max here:
Amazon: https://amzn.to/2YVpbtk
Goodreads: https://bit.ly/3iwIkJF
Bookbub: https://bit.ly/2D6vVvT
A Jaz and Luffy Cozy Mystery Series
Book 1: Paws in the Action
Book 1.5: Cold Case (Free Novella)
Book 2: A Timely Murder
Book 3: Bookmarked for Death
Book 4: Three Lines of Inquiry
Book 5: Pumpkins & Peril
Book 6: Winter Murderland
Book 7: Six Paws Under
Book 8: Anubis Fortunis
Book 9: Fashion Fatality
Book 10: Dead Man's Trail
Book 11: A Terminal Paws
Book 12: Fiction Affliction
For free reader magnets, please click here:
Cozy: https://dl.bookfunnel.com/boa2a0o66q
Furry Friends: https://bit.ly/37cpnZU