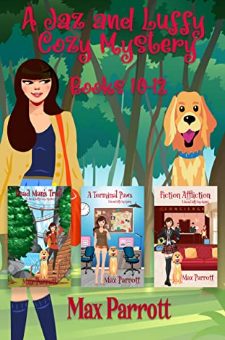 About A Jaz and Luffy Cozy Mystery: Books 10-12 (A Jaz and Luffy Cozy Mystery Collection Book 4):
The use of a talking dog partner-in-crime is still golden as Luffy's innocent and delightful viewpoint and commentary continue to charm… Dead Man's Trail is another delightful installment in the series with humor, top-notch mystery, conflict, and a lovely setting."–5 Stars, Readers' Favorite
BOOK TEN
Deep in the wilderness, murder awaits…
Jasmine imagined a relaxing camping trip along the beautiful White Mountain trail would be the perfect way to take a break and forget about the murder investigations plaguing her life. However, she can't shake the feeling that something is wrong—and when she experiences a harrowing vision soon after embarking on her trip, her suspicions are confirmed.
After she and her group stumble upon shocking new information about a long-lost cold case, Jasmine's hopes of a quiet getaway are crushed. Isolated from the outside world and armed only with her wits, she becomes determined to solve the murder—but it quickly becomes clear that somebody is hell-bent on stopping the truth from ever being brought to light…
As the weather turns sour and tensions rise within her group, Jasmine scrambles to unmask the killer and identify the elusive threat that haunts her visions. Is a mysterious killer lurking on the mountainside? Or does someone in her group harbor a dark secret?
BOOK ELEVEN
A puzzling disappearance, a suspicious news blog, and the media circling in like vultures…
When the wife of a wealthy businessman appeals to private eye Jasmine Moore for help, she assumes it's just another harmless missing persons case. But her ordinary investigation soon spirals into something much more sinister – and as the news companies start arriving, Jasmine quickly realizes that this disappearance goes much deeper than she'd ever imagined…
When murder is on the cards, the local authorities step in. Teaming up with the sheriff department's newest white-hat hacker, Jasmine and her faithful companion Luffy must investigate a popular news blog that just keeps cropping up. As they sift through a host of suspicious characters to unravel the truth… and as another victim goes missing, Jasmine must act fast before her investigation ends in disaster.
Time is running out, and all eyes are on her. Can Jasmine decipher the truth behind Blackwood Cove's latest perplexing case, or will she embarrass herself in front of a national audience?
BOOK TWELVE
The demise of a popular author, a hotel on lockdown, and no killer in sight…
The world-famous fantasy convention ArcadiaCon is bustling with activity, and Jasmine is overjoyed to take a break from her work and dive into the fun and excitement with her faithful dog Luffy and fantasy enthusiast Brandon.
But when a fantasy panelist turns up dead, his grisly murder re-enacted from a scene in one of his novels, Jasmine, Brandon, and Luffy are catapulted into a chilling investigation that will quickly prove to be their most challenging case yet. With the convention spiralling into chaos and the hotel on strict lockdown, they'll have to race against the clock if they want to unpick the puzzle and unmask the sinister culprit.
Struggling to wrangle together their suspects and with no clear motive in sight, Jasmine must use all of her sleuthing skills to think outside the box and find out who would want to kill one of the world's most popular authors. Rival writers, obsessive fans, and personal enemies are only a few of the possible theories – and if she doesn't act fast, the killer could slip away… or worse, strike again.
Will Jasmine succeed in cracking her toughest ever case? Or has this cunning killer finally managed to outwit her?
Buy the book:
Author Bio:
Max Parrott is a dog trainer who currently lives in Seattle with his beloved golden retriever named Luffy. It is this special canine friend that has inspired him to start his very own cozy mystery series.
The inseparable duo often enjoy big long walks down the canal where Max reminisces about Luffy's one shot at fame – a close second in Musical Chairs for dogs one wintry Christmas eve.
You can follow Max here:
Amazon: https://amzn.to/2YVpbtk
Goodreads: https://bit.ly/3iwIkJF
Bookbub: https://bit.ly/2D6vVvT
A Jaz and Luffy Cozy Mystery Series
Book 1: Paws in the Action
Book 1.5: Cold Case (Free Novella)
Book 2: A Timely Murder
Book 3: Bookmarked for Death
Book 4: Three Lines of Inquiry
Book 5: Pumpkins & Peril
Book 6: Winter Murderland
Book 7: Six Paws Under
Book 8: Anubis Fortunis
Book 9: Fashion Fatality
Book 10: Dead Man's Trail
Book 11: A Terminal Paws
Book 12: Fiction Affliction
For free reader magnets, please click here:
Cozy: https://dl.bookfunnel.com/boa2a0o66q
Furry Friends: https://bit.ly/37cpnZU