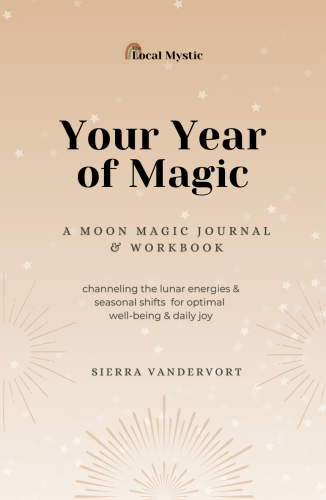 About Your Year of Magic:
Discover the natural power of the moon and seasons, and how you can utilize them to feel good and reach your potential.
Moon magic is an intuitive way to connect to your highest self through nature. But it can also be a helpful framework for goal-setting that actually honors your energetic ebbs & flows!
Now you can access the magic of the universe, with Your Year of Magic. You'll find rituals, journal prompts, and high-vibe insights for every full moon of the year. By attuning to this energy, we are taken out of the uninspiring repetition of the everyday – and begin to feel a bit of magic and transformation in our lives!
This moon witch book will help you:
– Learn the energies & power flows of every single full moon
– Understand your own ebb and flow of energy, so you can feel more productive & less burnt out
– Practice self-care rituals that will help you make more time for yourself and your spiritual development
– Unlock the power of full moon rituals with this practical guide to moon magic and seasonal living.
Buy the book:
Author Bio:
Sierra is a writer, modern mystic & community builder. She's been practicing yoga for nearly a decade & got certified to teach in 2018. She teaches all about connection: connection to the body, to nature & to the universal love that holds us all together. She also loves blending witchy practices like moon magic & the wheel of the year into her classes.
Sierra's global community network – The Mystic Members Club – helps women deepen their spiritual studies, feel powerful & build a community of like-minded souls. She loves to guide them to their witchy side by helping them embrace the confidence & abundance they deserve! Outside of teaching, she's an avid traveler, dancer, writer & music lover.