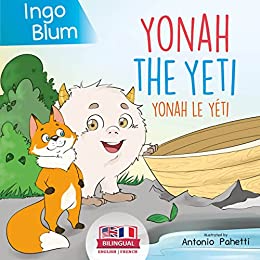 About Yonah the Yeti – Yonah le Yéti: Bilingual Children's Book in English and French (Kids Learn French 7):
Teach Your Children First Words in English or French.
Some people say Yetis are real. They say Yetis look a lot like people, except that they are covered with long snow-white fur.
They say that Yetis live in the great snowy mountains between India and China. These mountains are called the Himalayas. This is a story about Yonah the Yeti – the friendliest Yeti in the world! He is a bit different, but he doesn't care. Read how Yonah and his best friend Mister Red Fox help a bird couple that broke up after an argument – with a funny (and colorful) trick!
After all, it's kindness and helpfulness that bring all the animals together again. How? Just read this funny book.
Here's what you'll find inside this book:
50+ pages designed to inspire and teach kids ages 3-7
Each line is both in English and French
A funny and interesting story perfect for reading out loud
AND MUCH MORE!
If you're looking for a great book for kids that combines listening, coloring,and learning, this is the book for you!
Buy the book:
Author Bio:
Ingo Blum is an author, graphic designer, and comedian. He has always enjoyed projects where he could create artwork for kids. Eventually, he became a writer and graphic designer and started writing children's stories to accompany these projects for fun. With some encouragement from his friends and family (and a lot of kids!), he decided to share his stories with the world. Ingo works with illustrators from all over the world with whom he constantly develops new concepts and stories.
Please visit him on www.ingoblum.com
www.facebook.com/ingoblumauthor/
Pinterest and Instagram: ingosplanet
Get some FREE books at bit.ly/5freebooks