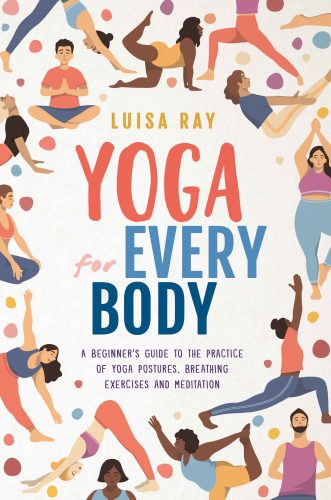 About Yoga for Every Body: A beginner's guide to the practice of yoga postures, breathing exercises and meditation:
Anyone can do yoga – and anyone will benefit from starting a yoga practice!
Did you know that as well as improving your strength, flexibility, balance and overall physical health, yoga can help you overcome anxiety and depression? You may have heard that yoga can make you feel full of vitality, but don't know where to start. Maybe you've done a few classes but feel that you want to understand more. Or maybe you don't want to spend more time staring at your phone or computer just to practice yoga.
It doesn't matter if you're completely brand new, and it doesn't matter how much you do – a small step is enough. By developing a yoga practice you'll begin the journey towards completely transforming your life.
In Yoga for Every Body you'll discover:
The incredible benefits of yoga practice that have been backed up by scientific research.
More than 50 illustrated yoga postures with step-by-step instructions to take you from start to finish with accessible variations and simple modifications for any body type.
Different yoga sequences to practice depending on your mood or energy levels – and how to make your own routines
How to incorporate different breathing exercises and meditation techniques into your life.
The roots of the practice and how it has developed into the postures that we do today.
…and much more!
Buy the book:
Author Bio:
It's a cliche to say, but it's true: yoga saved Luisa's life. It came at the just the right time and she's stuck with it ever since. She started practising yoga when it was much harder to find than it is now – it wasn't all over the internet, and there weren't studios in every neighbourhood. Now it's everywhere and she hopes its popularity will only continue to increase. She will always keep on trying to spread the message of yoga, and try to make it as inclusive as possible.
Her yoga journey has taken her to India, where she studied her first teacher training in Rishikesh. She has since earned may hundreds of hours of further trainings both in her home country of America, as well as with teachers in Europe and Asia. Although she considers herself a perpetual student, she has spent the time since her first yoga teacher training back in the 1990s teaching consistently, and for many years it was her full-time job.
Now, when she's not teaching yoga, or practising on the mat herself, Luisa also works as a therapist, and spends her free time looking after her large family of animal friends, or gardening in her herb garden. She strongly believes that yoga in its many forms can be an integral part to holistic health and wellness, and hopes that others can receive the benefits that she has experienced.