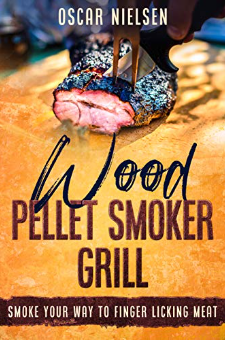 About Wood Pellet Smoker Grill: Smoke Your Way To Finger Licking Meat, Recipes For All The Best Meats by Oscar Nielsen:
70+ Mouth Watering Recipes for wonderfully wood-fired flavor Smoked & Grilled BBQ
The book covers;
Chicken Recipes
Game Recipes
Red Meat Recipes
Pork Recipes
Seafood Recipes
Vegetable Recipes
And so much more!
What you will learn more about:
A how-to guide that covers everything from getting your wood pellet grill to preparing for a heated grilling game!
Different types of wood you can use in the grill, what wood that goes best with what meat.
Benefits of using a wood smoker grill vs other grills.
Grill mops, e.g, silicone vs cotton mops, and the pros and cons of using each one.
Safety tips to think about when it comes to using the grill.
The differences between using a sauce vs a rub for your meat.
•Cleaning tips when it comes to cleaning your wood pellet smoker grill.
And so much more!
Can't really beat home cooked meals right? Is it finally time to take action and surprise your family and friends?
Get this book now and start grilling the most mouth-watering meals!
Buy the book:

Author Bio:
Hi! I'm a Nordic lifestyle writer.
I believe that there is a lot ancient knowledge of happiness from the north that we can apply to our modern daily and sometimes stressful lives..
If you want to find out more about why the people of the north are among the happiest people in the world? Or start to cook some mouth watering get together recipes then check out my books! Thank you