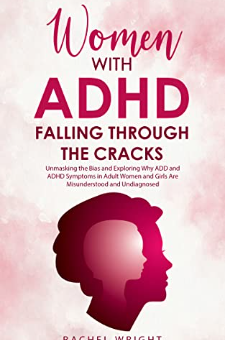 About Women with ADHD Falling through the Cracks: Unmasking the Bias and Exploring Why ADD and ADHD Symptoms in Adult Women and Girls Are Misunderstood and Undiagnosed … Health and Empowerment Books Book 1):
Women with attention-deficit/hyperactivity disorder (ADHD) are falling through the cracks, and it's time to talk about it.
ADHD is not just a problem for kids and males. With centuries of cultural stereotypes about women's supposed lack of intellect, women with ADHD are often overlooked and unacknowledged. 50%-75% of ADHD cases in females are missed.
This diagnosis gap happens partly because it's a condition that was traditionally thought to affect mostly men, but also because women tend to have less obvious or socially disruptive symptoms than men. Males tend to be diagnosed more often and sooner because their symptoms are usually more physical and obvious. Inattentive ADHD, the most common ADHD presentation in females, tends to be mental rather than physical. Since many of these symptoms take place inside the mind, they can be easy for parents, patients and mental health professionals to miss.
"A moving and eye-opening exploration of the different impacts of ADHD in women from childhood to adulthood: from missed opportunities to missed diagnoses and the heartbreaking consequences. A must-read for anyone who wants to understand more about ADHD in women."
ADHD is a challenging condition for women and girls. According to the Centers for Disease Control and Prevention, the diagnosis rate among females is 40% lower than males. The symptoms can be different but the consequences are just as serious. Women with ADHD often go undiagnosed or misdiagnosed, which negatively impacts their mental & physical wellbeing and relationships. The good news? ADHD can be managed with medication and coaching. This book introduces ADHD through the lens of women, offers tips for managing daily life, and includes a list of resources for women in particular.
This book will teach you:
What is ADHD
How to diagnose ADHD
ADHD management strategies
Tips for parents of an ADHD child
Treatment options of ADHD
How ADHD symptoms differs in women
Why ADHD Is Underdiagnosed in Women
Challenges of women with ADHD
If you are a woman with ADHD, you should know that it is a very treatable condition. As overwhelmed as you may feel, know that you can feel better. There is a lot you can do to regain control of your life, instead of having ADHD control you.
It's time to Know Your ADHD and Own Your ADHD!
GRAB YOUR COPY TODAY!
Buy the book:
Author Bio:
Rachel Wright is a renowned author, speaker, and coach who has dedicated her career to empowering women to unlock their full potential. With over a decade of experience in the self-help and personal development industry, Rachel has become a trusted voice for women seeking to overcome challenges, break through barriers, and achieve their dreams.
Rachel's books have been praised for their practical advice, uplifting messages, and relatable tone. Her best-selling titles include "Empowered Woman: The Ultimate Guide to Overcoming Self-Doubt and Building Self-Confidence," "Rise Up: How to Turn Your Setbacks into Comebacks," and "Own Your Power: A Step-by-Step Guide to Achieving Your Goals and Creating Your Best Life."
In addition to her writing and speaking, Rachel is a certified life coach who works one-on-one with clients to help them achieve their goals and create meaningful change in their lives. With a passion for helping women discover their strengths and live their best lives, Rachel is a true champion for empowerment and personal growth.