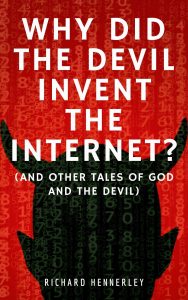 Why Did The Devil Invent the Internet by Richard Hennerley
WHY DID THE DEVIL INVENT THE INTERNET? AND 4.02AM? AND RELIGION?…
If you wish to know why The Devil invented the Internet the first thing you have to understand is that God and The Devil were not always daggers drawn at opposite ends of the spiritual spectrum, so to speak. Indeed, in the beginning there was the light, and there was God and there was The Devil. And God and The Devil were great friends and partners and the basis, the cement, of that relationship was the world creation business…how did it all go so horribly wrong?
BUY NOW AT SPECIAL NEW RELEASE PRICE OF $0.99/£0.99 (SHOULD BE $3.99/£2.99)
Two brothers, one good and one bad, discover that the road to Heaven passes through the foothills of Hell. Who will survive the journey?
What on Earth (and Heaven) can God and the Devil do about a man who is too wicked even for hell?
A terrifying horror is unleashed on humanity when the Devil hits upon a wicked new invention – the internet.
God decides, for the first time in an eon, to have a look exactly what is happening on Planet Earth – and wishes he hadn't bothered.
A rich man is forced to confront the corruption in his soul, with fatal consequences.
All hell is let loose (literally) when the Devil decides to reclaim the soul of one of his Special Children.
And along the way we discover that the Devil also invented religion and two minute past four in the morning – but why?
And more….
11 tales of God and The Devil. Read them – if you dare.
Buy the book, and follow the author on social media:
Learn more about the writer. Visit the Author's Website.
Get This Fantasy Book From Amazon.
Visit the Author's Twitter page.

Author Bio:
The author is to be found malingering at the end of a sentence with words aforethought.