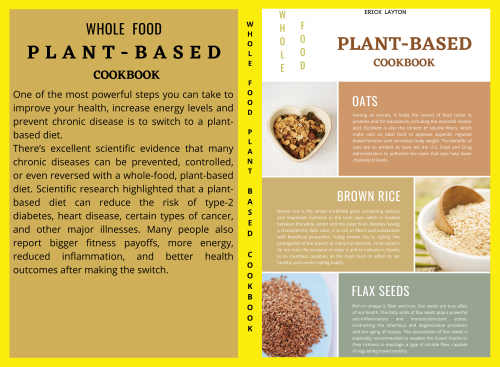 About Whole Food Plant-Based Cookbook:
If you're looking for a healthy and balanced diet capable of giving wellness and energy to your body, then read on and discover the plant-based diet
It is one of the latest food trends that has been gaining momentum for some time, thanks to the many celebrities who sponsor it, but the plant-based diet is much more than a fad.
The plant-based diet is a real approach to life, starting from nutrition: respect for one's own health and body, first of all, which is reflected in the respect for all forms of life and for the Planet in general.
WFPB is the acronym of "Whole Food Plant Based" and refers to a type of diet based on vegetables in their most natural and integral form possible.
Scientific research, in fact, shows that the inclusion of foods of plant origin and whole foods allows you to say goodbye to extra pounds and stay healthy.
This whole-food, plant-based cookbook includes:
An extensive introductory section that will help you understand the basic characteristics of whole and plant foods
The many Advantages and Benefits that the Vegetable Diet can give you and why you should follow it
What foods you should eat and which to avoid for a healthy lifestyle
Over 40 delicious, easy-to-make recipes
Practical tips that will help you approach a WFPB diet in an easy and sustainable way with lists for properly stocking your pantry and much more
Several examples of food plans designed to improve your health and cleanse your body
Buy the book: