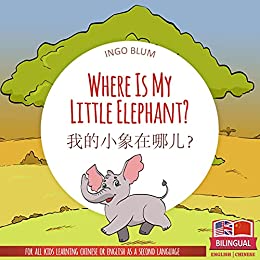 About Where Is My Little Elephant? – 我的小象在哪儿?: Bilingual Picture Book Chinese English (Chinese Books for Children 3):
Teach Your Children First Words in English or Chinese
This bilingual children's story is about Daisy the elephant lady. She is missing. The search for her in different places is a delightful read-aloud. Elephants are so big they cannot hide so well, right? It should be easy to find Daisy. Is Daisy lazy? Maybe she does not want to go to school. Did she go ice skating instead? Or to a birthday party?
What do you think?
Kids will learn different places, objects, and simple questions and answers, but mostly, they will cry out a loud "hooray" when the funny elephant lady is discovered at the end. Where? Well, just read…
Here's what makes this book special:
Each line is both in English and simplified Mandarin Chinese
The story is simple and suitable for early age learning
All the illustrations are original, creative and super fun
AND SO MUCH MORE
Kids learn quickly and easily. With bilingual children's books, you set them up for success and expand their horizons from an early age! This dual-language story is specifically designed to teach children new foreign words and phrases as you read to them. The book is also available in other languages. If you and your children like funny animals and a bit of seek-and-find, then you'll both love this charming story!
For all kids learning English or Chinese as a second language.
Buy the book:
Author Bio:
Ingo Blum is an author, graphic designer, and comedian. He has always enjoyed projects where he could create artwork for kids. Eventually, he became a writer and graphic designer and started writing children's stories to accompany these projects for fun. With some encouragement from his friends and family (and a lot of kids!), he decided to share his stories with the world. Ingo works with illustrators from all over the world with whom he constantly develops new concepts and stories.
Please visit him on www.ingoblum.com
www.facebook.com/ingoblumauthor/
Pinterest and Instagram: ingosplanet
Get some FREE books at bit.ly/5freebooks