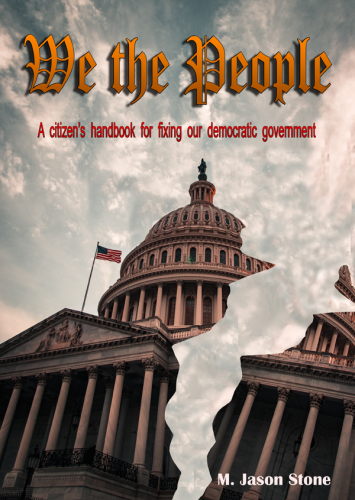 About We the People by M. Jason Stone:
Our democratic government is broken. You know it, I know it, the whole world knows it.
This citizen's handbook provides an easy to follow step-by-step blueprint for how WE can fix it, regardless of our current political affiliations.
We are all experiencing problems right now: Inflation, gas and food prices, shortages of necessities for our infants, international conflicts, supply-chain difficulties and tighter money issues.
There is a way to correct all of those issues and this handbook shows us how.
By focusing on the way we WANT our government to work for us, we can make use of the tools we have to make the changes we need.
Those tools are our voting power, our voices, our logic and our insistence on a better future for ourselves and our children. But all of our tools are not very useful if we aren't sure how or why to use them. This citizen's handbook provides us with those answers.
It provides ways to save you and I, the taxpayers, citizens and "owners" of the government, millions upon millions of our hard-earned dollars, and still get what we want done to be done and it explains how to do this without resorting to riots, or marches, or protests.
If you are not happy with the current state of affairs in our country, this handbook is a must read.
Buy the book:
Author Bio:
M. Jason Stone is a retired Artist, consultant, writer and chef.
He has sold over 7,000 artworks and prints in over 17 countries around the world.
He has consulted with many international companies regarding hiring, operations and technology issues.
He authored the C.A.R.L. Report which was created as an internal report for the Canadian Motivation Research Council. It entailed interviewing hundreds of Canadian CEOs and employees and providing statistical data regarding the results of those interviews.
And he likes to cook delicious food.